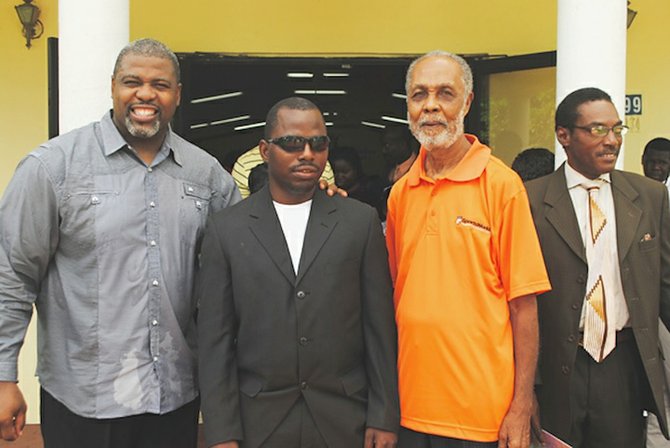 By ALESHA CADET
Tribune Features Reporter
acadet@tribunemedia.net
IF YOU had to go through your daily routine of getting up, getting dressed, going to work, or taking care of your household duties without being able to see, you might realise just how important it is to protect your eyes.
That is the message the Bahamas Alliance for the Blind and Visually Impaired (BABVI) wants people to remember every October, which has been officially declared Sight Awareness Month.
Members of BABVI said it is not a topic only for those who are blind or visually impaired, it is important for every human being to take care of their eyes and preserve their ability to see. Such an important facet of life – sight – is often overlooked. Yet, there are things that persons can do to protect their eyes as well as to ensure that they are able to see well into their old age.
BABVI President Antoine Munroe, told Tribune Health that the first Annual Sight Awareness Month was recognised in 2009. He said it was centred around two important days: World Sight Day on October 10 and White Cane Day on October 15.
Mr Munroe said many people may not know about Sight Awareness Month because the organisation's link with the media is not as strong as they would like it to be.
"I think because we haven't really had that link with the media as we want to, a lot of people are not aware of Sight Awareness Month. There has to be more things done within the year leading up to Sight Awareness Month, so that people can be informed about it. We want to reach out to more people and media houses to create partnerships to get our message out there," said Mr Munroe.
For the remainder of October, BABVI will engage in a series of events that will not only highlight the importance of sight awareness, but seek the public's partnership with BABVI to create new opportunities for the blind and visually impaired to achieve success.
BABVI members will be out in Rawson Square from 11am to 1pm on Wednesday, meeting and greeting members of the public, demonstrating the tools and systems they use on a daily basis. This event will be recognised as the "White Cane Demonstration."
There are many misconceptions blind want people to do away with, and they want White Cane Day to be the forum for them to achieve this.
"It is really to focus national attention on the importance of the white cane. It is an important symbol of blindness and a tool for independence, mobility and productivity. It is basically just to encourage the respect of the motoring public and the public at large to the white cane," said Mr Munroe.
He explained that a white cane is a tool that persons who are blind or visually impaired use to assist them in moving about in the environment, and identifying objects in their way.
The event was scheduled to take place last Tuesday, but due to circumstances beyond their control, Mr Munroe said it was postponed to tomorrow. He said each year have the demonstration in the Rawson Square area.
"I think these events are important because it shows people that persons who are blind and visually impaired can be productive citizens. They can be independent. We want to encourage persons that have friends or relatives that are blind to bring them out and be apart of the organisation. We don't want them to think that because you are blind, the world ends," said Mr Munroe.
As a blind person himself, Mr Munroe said he still has his challenges, but he was able to learn blinds skills along the way.
"I learn how to move about at home and at work. I have the JAWS (Job Access With Speech) reading software that helps me to use the computer just like any other person, so in a nutshell, I am still able to manoeuvre.
We want the public to know that blindness is not a disease and it is not inherited. You cannot stand on the side of me and become blind, but it can happen to anyone. Today it can be me, and tomorrow it can be somebody else. So we want to encourage people that if they know of blind people that need assistance, they can contact us and we will do our best to integrate them back into society," said Mr Munroe.
For the remainder of the year, Mr Munroe said there are a lot of activities scheduled.
"We want to start a training program where we will be training persons who are blind and visually impaired, in reading and writing braille. Also, using the computer with the JAWS screen reading software. The devices for persons who are blind are very expensive, so we assist even in that way to help them out," said Mr Munroe.
BABVI will wrap up the month's activities with a steak-out fund-raiser on Saturday, October 26 at Long Wharf, Arawak Cay, from noon to 6pm.