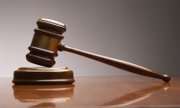 FOUR suspects pleaded not guilty when they appeared in Magistrates Court yesterday accused of being involved in a series of car thefts where Honda modelled cars were targeted.
Jason Noble, a Jamaican of Grant Street, and three Exuma residents, Gino Gray, David Pierre and Shantia Sears, all of Williams Town, appeared before Chief Magistrate Joyanne Ferguson-Pratt.
Separately and together, they faced several charges of stealing and receiving, concerning the theft of cars between November 2012 and October of this year.
Gray and Sears were granted $10,000 and $7,5000 bail respectively while the other two accused were denied bail.
The four are expected to return to Magistrates Court on October 28 for a status hearing.