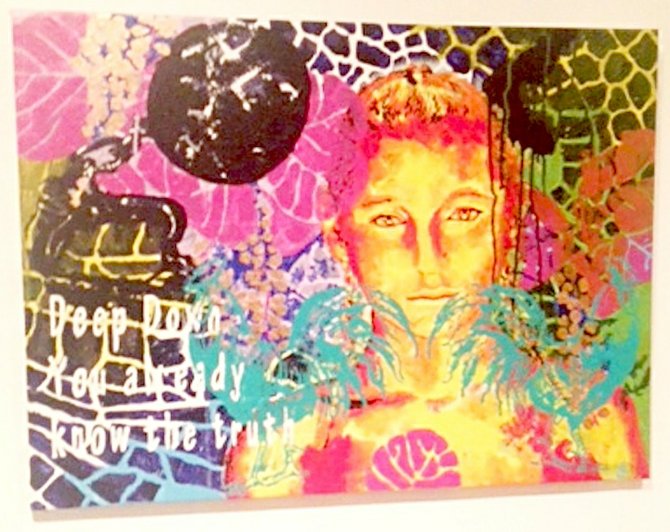 By ALESHA CADET
Tribune Features Reporter
acadet@tribunemedia.net
THE NATIONAL Art Gallery of the Bahamas hosted its fourth annual All-Start Amateur Artist (AAA) event on Sunday.
The theme of the AAA event kept in connection with the Gallery's current exhibitions entitled; Master Artists of The Bahamas and The Bahamian Collection.
The amateur artists were asked to create works that relate to the distinct styles of Bahamian master artists or portray themes within their body of work. The Master Arts of the Bahamas and The Bahamian Collection are two signature exhibits at the NAGB.
The Master Artists of The Bahamas is a travelling exhibition that successfully opened in May.
The exhibition includes work by John Beadle, Jackson Burnside, Stan Burnside, John Cox, Amos Ferguson, Kendal Hanna, Brent Malone, Eddie Minnis, Antonius Roberts, Dave Smith and Max Taylor.
"The Bahamian Project" was unveiled in July, 2013, during the NAGB's independence event lineup. The goal of the collection is to create a permanent collection of photographs to provide recognition, foster cultural awareness and create a record of the people who make the Bahamas unique.
As the curator of the AAA exhibition, NAGB Educational Officer Jordia Benjamin said it was a great opportunity for emerging and amateur artists to showcase their artwork in the national gallery.
"It is kind of an introduction into the art world to really show how professional artists are really influencing this new young wave of growing artists. It is just to keep this movement of art in our country going and progressing," said Jordia.
Jordia said the gallery received a lot of feedback in regards to the AAA exhibition. "I was expecting more artwork to gravitate more towards the Bahamian Collection being that it is an exhibition filled with photography, so I was kind of surprised when we didn't have any photographs submitted," she said.
"I know photography is having a new wave and a whole lot of interest, so I was surprised that a lot of artwork didn't come under that medium. We got a lot of paintings and collages that were inspired by our Master Artists Exhibition," said Jordia.
Describing an acrylic painting by AAA participant Deime Ubani, Jordia said the artist was inspired by Kendall Hanna, who was the Bahamas' first abstract artists.
"She did artwork that pulls from his gestures and the way he attacks the canvas as far as colours and the laying of the paint goes," said Jordia.
Participants Lanny Harris and Jordanna Kelly were more inspired by NAGB's Chief Curator, John Cox, who is also part of the Master Artists Exhibition.
"Mr Cox used a lot of geishas in his pieces which is deriving from Japanese oriental culture. So they were inspired, Lanny Harris in particular, by the geisha theme. Kelly was more inspired with the layering technique used by John Cox," said Jordia.
Twenty-five year old Julian Johnson, a participant from Tarpum Bay, Eleuthera, told Tribune Entertainment he is very passionate about his work, and he sees beauty in everything. He said the idea of his large form acrylic painting came about as a result of his love for Junkanoo.
"It is just an African headpiece and just the heart of Junkanoo really got this together. I am really good with colours, so I added a lot of colours that made this outcome. This is my first time taking part in any art show ever, but I have been involved in art for quite a while. I like to hear what people have to say about my work so anything good or bad, I will take it as encouragement. I will most definitely be entering more shows from here," said Julian.
La'dea Roberts said her acrylic on canvas "Bahamian Heritage" piece depicts the Bahamian Flag in large part.
"In the piece, I incorporated images of a Bahamian and the plant life, so to do that, I thought, who is considered a true Bahamian, hence the name, Bahamian heritage. I used all the colours of the flag and palm leaves. I laid the palm leaves over the piece and painted over them so that I could get the outline of them. So looking at it, you can basically feel not only heritage in terms of the people, but the plant life that has been around that many have not taken notice of," said La'Dea.