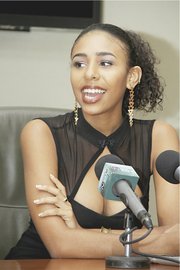 By LESH
Tribune Features Reporter
acadet@tribunemedia.net
SECURING the contract to become the face of Cable Bahamas was a major milestone in the life of Bahamian teen sensation Angelique Sabrina. She joins the ranks of Bahamian Olympians, who have previously secured endorsement contracts from corporate Bahamas.
In June of this year, Angelique teamed up with Cable Bahamas for a new promotional campaign. Just weeks after her high school graduation, the 15 year old sat with representatives from the company to sign a one year contract.
"My dad was actually at the Mall at Marathon going to run some errands and he bumped into the head of marketing of Cable Bahamas, David Burrows. Mr Burrows was well aware of who I was and my dad was well aware of who he was. They kind of started speaking from there and we had a conversation on working together as a company and as an artist," said Angelique.
Angelique said everything gradually happened after she sat with members of Cable Bahamas, and spoke about the possibilities of her being able to approach the youth in a way that it would make the product "cool". Angelique said it was her hope to represent the company to people in her age group.
"Through that, we decided to do the jingles and the commercials. Then we started to speak about what we can do as a gift for independence, and that is how the national anthem came about. I played the song for him that I sang for Sidney Poitier and Oprah at the naming of one of the bridges to Paradise Island, which is called 'The Measure of A Man.' That one was more of a big ballad song, so when he heard that I can sing something like that, he said we can totally do the anthem and approach it like that," said Angelique.
Everyone just had the same thought. They said whatever we do, it has to be epic, and that is how it all started. When it feels right, it is easy to make those kinds of decisions," said Angelique.
Mr Burrows said the partnership with Angelique Sabrina makes perfect sense for his company.
"Angelique Sabrina is a young outstanding talent, with determination, an innovative style and a commitment to being the best at everything she does. These are all similar characteristics that drive Cable Bahamas as we continue to revolutionise technology, telecommunications and entertainment products in the Bahamas, so we see many parallels between who we are and who Angelique is," said Mr Burrows.
It was not long ago that Angelique Sabrina stepped on the music scene with her singles "13" and "Speakerbox." Now with widespread play on Bahamian radio and support internationally, the young teen's career is blossoming, thanks in part to hit single "Pull Up", one of the most popular pop songs made by a Bahamian. The song's music video premiered exclusively on MTV Buzzworthy last May.
Her single "Stop Sign", featuring Shontelle, has also garnered significant airplay in major radio and music video markets in the United States.
Angelique recently performed live on stage with rap star Flo Rida. She has previously performed at the tribute concert to Sir Sidney Poitier at the naming of one of the bridges to Paradise Island, and the Apollo Theatre's first annual Harlem Healthy Soul Festival in New York.
Angelique said since her Cable Bahamas commercial involvement, the feedback from the public has been very positive.
"I guess you can say that it is more hip now. They have a lot of products that I can't really speak about yet, that are coming out soon and it is really something that I think the youth are going to be more interested in," she said.
Her contract with Cable Bahamas is for a year, but Angelique said it just may end up lasting more than a year. "We have to see when we get to by the end of the contract," she said.
This is not the first time that Cable Bahamas has worked with Bahamian celebrities. Olympic gold medallist Debbie Ferguson represented the company when it first launched its broadband internet service in 2000, and the National Dance Company, Fred Ferguson, Matthew Wildgoose, Dana Ferguson, Autumn-Joy and Tony Lowe have all worked with Cable Bahamas.
"This is the new generation. We have new access to things and technology. So I think that it is really great that the older generation is recognising that and deciding to shine light on that. There is so much going on and there is always so much spoken about negativity, so when people highlight the positive, I think it is very inspirational," said Angelique.
As far as her music career goes, Angelique said she is working on a lot of new music for her supporters.
"I have a new song out now that I posted on YouTube; it is called Fairytale. I have another one that is not on YouTube as yet, but it will be soon. I also released a new song here locally on the radio stations, called Ready. I have those two ballads that are out now and you can purchase the both of them on iTunes," she said.