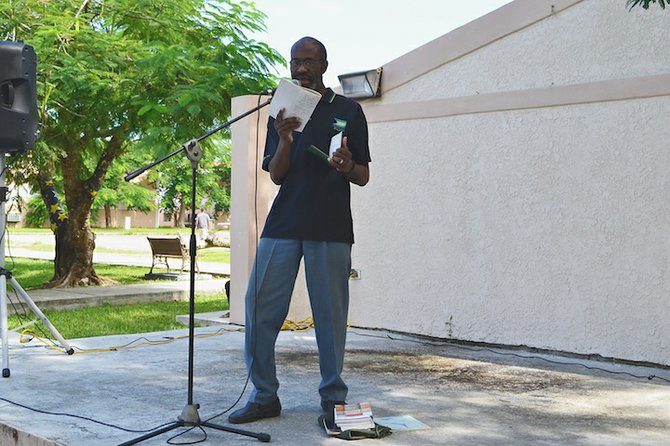 ON any given day during the semester, Independence Park, a gathering spot at the centre of The College of The Bahamas' Oakes Field Campus, is a beehive of activity.
On the day that the School of English Studies concentrated much of its attention on increasing awareness of the importance of higher education studies in English, the area was transformed into a vibrant centre of learning.
The reason was the annual "English in the Park" celebration, a platform for the dynamic display of English studies in various forms.
Students from various high schools and the College took part - the message was how courses offered by the School of English can add value to their future careers.
"Often time you hear that students don't like English, but we want to show them that English can be fun, hence we have incorporated the fun activities, so that the event is intended to be intellectually stimulating, but also fun," said Dr Helean McPhee, Chair of the School of English Studies.
The students played English Jeopardy and took part in a spelling bee, poetry readings, an open mic session and dramatic presentations.
One of the highlights was an appearance by Obediah Michael Smith, a prolific Bahamian poet and writer, who shared his poetry and offered advice to novice writers in the audience.
"I read 3,000 books. If you want to write, it is really very important to read. There is a thing about language and the state of the language and the health of the language. We want to keep the language growing. We want to keep it developing and expanding," he said.
Dr Marjorie Brooks-Jones, Dean, Faculty of Liberal and Fine Arts encouraged the students to think deeply about the importance of English studies in a dynamic world.
"English can open doors to a more exciting array of opportunities than you would ever think of. One of our graduates is heading to Florida to a graduate school to study film. If you do a Bachelor of Arts in English here, you would do some courses in film. He has made documentaries [and] won awards," Dr Brooks-Jones said.