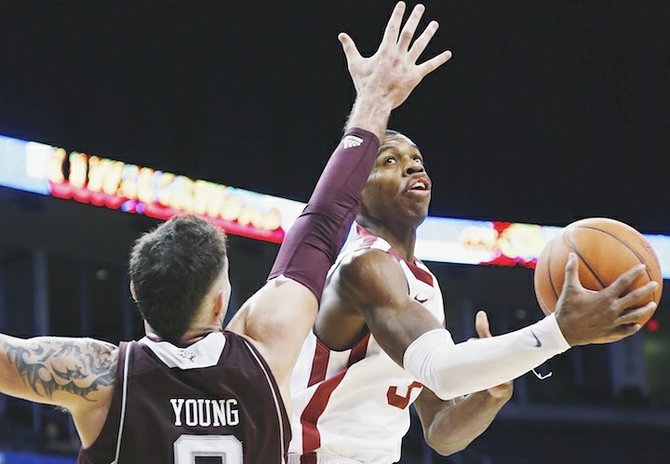 By RENALDO DORSETT
Sports Reporter
rdorsett@tribunemedia.net
INDICATIVE of his new leadership role, sophomore guard Buddy Hield was one of three members of the Oklahoma Sooners programme chosen to represent the team when the Big 12 conference hosted media day.
Hield, along with senior forward Cameron Clark and head coach Lon Kruger, addressed issues surrounding the team and the powerhouse conference at Tuesday's session with the national media in Kansas City, Missouri.
Hield, the leading returning scorer from last year's squad, said he expects the Sooners to surpass many expectations in the conference led by heralded underclassmen Andrew Wiggins of Kansas and Marcus Smart of Oklahoma State.
"I'd pick OU number one. I just have confidence in my team. The chemistry we have and the way we've been playing, running up and down the court, I feel that we'll run some teams down and I don't think they'll be able to keep up with us. Hopefully we prove (the media) wrong and we just get after it on the court," he said.
"Everybody's 0-0. You've got to prove something. They [the media] haven't respected us yet and we're looking for respect. We're going to get our respect this year. We've just got to go out there and stay confident and keep playing together as a group."
Over the course of the nearly five-hour session which included media from the Big 12 Network, Big12Sports.com, Campus Insiders, ESPN, Fox Sports Net and Sirius/XM Radio among others, Hield also addressed his return from injury that hampered his freshman season.
"You always think about it, you don't want to get hurt. But sometimes, whatever's for me was for me, you know? I've got to leave it to God to handle my situations. Hopefully I don't have that type of injury again. The doctor says it's healed and I'm just trying to stay healthy to help my team have a good season."
Hield suffered a broken bone in his foot in February against the TCU Horned Frogs.
Hield underwent surgery on February 12 and was initially expected to miss 4-6 weeks. However, he missed just five games and returned to the line-up on March 6 against West Virginia.
As a precautionary measure, he did not participate in the Sooners' five game European tour in August.
In the 2012-13 season, he averaged 7.8 points, 4.2 rebounds, 1.9 assists and 1.2 steals per game to rank fourth, third, second and first on the team respectively.
He shot 38 per cent from the field and just 24 per cent from beyond the arch.
"My shot has improved a lot. I've been working a lot on my shot and my form. I changed my form a little bit to have some more arc on the ball. I'm still shooting it a little flat. As I keep getting more comfortable working in the mornings with Coach (Steve) Henson, my shot's getting better," he said.
"I think everybody's going to have a breakout year. Everybody. Because everybody's put the work together and has been working hard. Putting up extra shots in the gym, coming in in the morning and working with coaches, everybody playing together on the trip to Europe. And staying focused."
The Sooners open their exhibition season November 2 against Washburn University and officially open the season Friday November 8 against the Alabama Crimson Tide at 4pm in the Tip-Off Showcase.