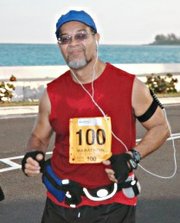 NAME: Arnold Heastie
AGE: 58
OCCUPATION: Businessman
HOMETOWN: Nassau
FAMILY: Single, a daughter
WHAT PROMOTED YOU TO START WORKING OUT?: In high school and university, I was actively involved in team sports particularly soccer. I started running as a 'stress reliever' from the demands of the family business.
HOW DID YOU START RUNNING?: After a time of running (solo), I registered for a half-marathon totally unaware and ignorant of the physical demands of the event – untrained!. I barely completed the event and then marvelled that there were people who were in better physical shape than myself particularly my diminutive female relative who convincingly 'kicked my butt'. My ego was shattered and the male ego kicked in…I can do this. I began to train with a group (two females and a male) and the females quickly and convincingly reversed my sexist ideas about males being naturally better runners. I could not 'beat them so I joined them' and this group formed the nucleus of what was to become the Bahamas Roadmasters Running Club with the motto never give up?
DESCRIBE YOUR REGULAR WORKOUT ROUTINE: Due to business demands, my training routine is quite unorthodox. Runs are based on a two/three-run week and long runs on the weekend whenever time permits. When I am in marathon training, I intensify my runs by adding hill workout (endurance), day running and boxing (body conditioning).
WHAT WAS THE BIGGEST HURDLE TO WORKING OUT AND HOW DID YOU OVERCOME IT?: Inconsistent training – due to business demands. I ran whenever my schedule permitted be it morning, noon or night. But I got the training in. Due to this, some of my training is solo.
WHAT IS THE MOST REWARDING PART OF YOUR RUNNING LIFE?: After 27 years, still having the physical and mental drive to run and compete.
ANY SPECIAL RUNNING ACCOMPLISHMENTS?: Completed 28 marathons including eight Los Angeles where I ran my personal record.
RUNNING GOALS: Just keep on doing it!
WHAT KIND OF CHANGES DID YOU MAKE TO WHAT AND HOW YOU ATE?: I eliminated red meat and foods high in cholesterol from my diet; consumed less fried food; heavy concentration of fruits and vegetables.
WHAT ADVICE WOULD YOU GIVE TO A BEGINNER RUNNER?: Start slowly. Listen to your body. Basic guidelines are extremely helpful, remember that no two people are alike. What will work for your friend may not work for you. Don't be afraid to try new methods that may work for you. Have a goal and make small steps to attain that goal – as is everything in life. Proper training is paramount.
Here's an unorthodox method that works for me: Find a talkative running partner and talk while you run. The talking will regulate your breathing and make the run time go faster. (p.s. run at whatever pace you can talk not the reverse). Eventually you will find that you can carry on a conversation even at a fast pace. Remember that this is your path to physical fitness and health, enjoy it , don't put stress in it, let it take the stress out of you while you get fitter.
Running is a great metaphor to life: You only get out of it what you put into it.