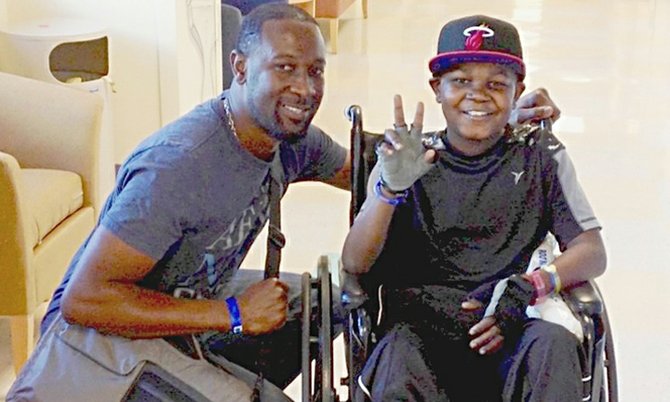 D'Quan Brown, an 11-year-old boy who once dreamed of becoming a basketball or track star, has spent the last year partially paralysed in a wheelchair, bravely battling a life-threatening disease.
After 13 months of fighting acute lymphocytic leukaemia, D'Quan in desperate need of a bone marrow transplant within the next few months.
Now, with his insurance coverage about to expire, his family is appealing to the public for financial assistance to cover the mounting astronomical medical bills.
Speaking with the The Big T, DeQuido Brown, D'Quan's father, said the leukaemia diagnosis came as complete shock to his family and left them reeling.
"These circumstances were devastating for my family. Trust me, families can never prepare themselves for this type of tragedy. This affects you spiritually, financially, emotionally, physically and mentally. You pinch yourself continually. When your child gets this sick you're so busy taking notes, paying bills and researching the illness that's affecting your kid that you won't know which day of the week it is – minutes, hours and days don't matter anymore; good, sound sleep is just a dream. With cancer, finances are nothing, your money becomes hourglass dust," Mr Brown said.
The family needs to come up with at least $50,000 to cover D'Quan's medical expenses, although Mr Brown said this might only constitute a quarter of what will ultimately be needed.
"I can't begin to imagine the financial challenges that lay ahead of us," he said.
To help raise the money, Mr Brown has launched a 'Go Fund Me' campaign on the internet. In the first five days of the campaign, 50 persons raised more than $7,000.
"This is my plea, a fathers plea, there is no such thing as pride when it comes to caring for D'Quan, I'm reaching out to every individual out there, both privately and corporately... No donation is too small, lets keep that smile on his face," Mr Brown said.
The Brown family's ordeal began last September when D'Quan, a normally athletic and energetic child, began experiencing pelvic pains.
Mr Brown said his family does not have a history of the disease and they were shocked that D'Quan, who was born completely healthy, was diagnosed with this form of deadly childhood cancer.
The road to the official diagnosis and eventual treatment was a protracted one which often left the family frustrated.
At first, Mr Brown said, they thought D'Quan's pelvic pains were the result of "playing rough."
"We figured that he bruised himself and couldn't recall the accident. It took multiple medical tests before a doctor in Florida was able to make a diagnosis," he said.
Initial doctor's visits resulted in the diagnosis of "growing pains".
Mr Brown said it took a long time before blood work and X-Rays could be completed to find out what his son was really suffering from.
The family was referred to an orthopaedic doctor, who ordered an MRI to be done. During this time, D'Quan was constantly running a high fever and suffering from severe pains.
"Three weeks passed without an official diagnosis, but the symptoms grew everyday. We were told that the only thing that D'Quan should take for the pain and fevers was children's Tylenol; we ran through four bottles during that period," said Mr Brown.
"We were then referred to a local paediatric oncologist without knowing that this doctor was an oncologist, or even knowing what that meant. On the afternoon after that visit the oncologist contacted my wife and indicated that she'd need to conduct a bone marrow biopsy in order to determine what was going on with D'Quan.
"I rejected that and brought him to the Florida on September 20, 2012 for an evaluation. One simple blood test was done and 30 minutes later he was admitted to a South Florida children's hospital. They told us that the results appeared to be that of leukaemia, but a bone marrow biopsy would be necessary. This was when we realised that the last physician that we saw in Nassau was an oncologist, and we sure learnt what that meant!"
After the official diagnosis was made, D'Quan started chemotherapy treatment.
"On that day his protocol required a lumbar puncture, also known as a 'spinal tap'," Mr Brown said.
"On the afternoon following the procedure he began to feel numbness in his legs. By the next day he couldn't move the legs at all and had lost all control of his bladder and bowel function. It was discovered that he had significant loss of sensation of his lower extremities. An MRI of his lumbar spine was conducted six days later, it was then confirmed that a large spinal haematoma had formed.
"D'Quan remained admitted in the hospital for 48 days, including three weeks in the hospital's Inpatient Rehab Unit, where he had occupational therapy and physical therapy, sometimes twice daily. During his admittance, he contracted the shingles virus, but amazingly he kept his glowing spirit and he continued to smile. He went into remission in November 2012 and continued treatment as well as physical therapy."
In July of this year, Mr Brown said, the family's worst nightmare came true as D'Quan contracted a bacterial infection and had to be airlifted to yet another hospital for an immediate assessment and treatment.
"It was then confirmed that he had relapsed," Mr Brown said. D'Quan immediately underwent aggressive rounds of chemotherapy.
"To date, he has not achieved remission, so he will need to undergo a bone marrow transplant within the next few months," Mr Brown said.
Mr Brown said his son needs assistance with everything from getting into the bath and the bed, to opening doors and with vehicle transfers.
"Day-to-day life has changed tremendously. I've been forced to resolve all of my employment contracts and small business investments that required my attention in order to be D'Quan's primary caretaker in the US. My wife on the other hand, of course, had to return to work after a lengthy leave of absence. Our medical insurance is also connected through her employer in Nassau. My kids were used to their dad doing school drop-offs and pick-ups; I was also their PTA vice-president; it hurts me that I'm not able to be the man in my home," he said.
D'Quan requires a caretaker around the clock, but Mr Brown said he gladly accepts this job without regret.
"My days are spent taking care of D'Quan in every way. From baths to diaper-changing, catheterising, giving medicine and injections, feeding, praying, playing, teaching, training, counselling, lifting, driving and insuring that he is on time to every appointment everyday."
And the circumstances are of course really rough on D'Quan, Mr Brown said.
"Not only does he have cancer, he's partially paralysed. He worked so hard at sports, very competitive and always strived to be the best at track and basketball. He now wears diapers because he cannot control his bowel and bladder. He cannot feel his feet and they remain ice cold. He gets frustrated because he now struggles with life's most simplest tasks. These are the effects of an irreversible spinal cord injury the occurred during the lumbar puncture," Mr Brown said.
To date, D'Quan has completed over 100 hours of physical therapy and is still actively enrolled in physical therapy whenever his strength or chemotherapy treatment allows his participation.
However, in the past few weeks D'Quan has had improved his strength and he has been able to exercise more and walk short distances with assisted devices such as a four-wheeled walker.
"A more recent MRI suggests that the spinal haematoma has been reabsorbed, but D'Quan now has an arachnoiditis cyst in the spine," Mr Brown said. "We have scheduled follow up appointments with neurology, urology, radiology, neurosurgery, haematology/oncology and physical therapy."
D'Quan has been unable to attend school and therefore desperately needs home schooling when he's at home from the hospital, a need that has not been met thus far.
Mr Brown said his son often asks him tough questions, like, "Daddy, why'd this happen to me?" and, "Why am I the only child with cancer who's confined to a wheelchair?"
"There's always one answer, 'You are the only child that can handle this right now and the other kids are depending on you to get through your trial, as a sign of hope that they'll get through theirs," Mr Brown said.
"He misses seeing and spending time with his family and friends, but he understands that he won't see them for a long time. I'd give just about anything to watch D'Quan run on the track, on the soccer field or play on the basketball court again."
• Persons interested in contributing to the fundraising efforts for D'Quan Brown can go to the website http://www.gofundme.com/dquan or send an email to fundingfordquan@gmail.com.