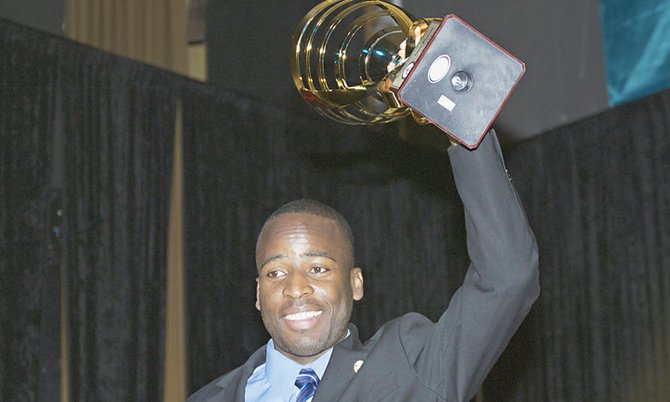 ADRIAN Wildgoose, a College of the Bahamas graduate in Mass Communications, who has been using his talents to promote social consciousness through film, took the top award in the country at this year's National Youth Awards.
Daniel Johnson, Minister of Youth, presented Adrian with the Minister's Cup, and told how Adrian was a young man who had not yet made up his mind what he wanted to do.

A COB professor saw something in him, and called him into the field of Mass Communications.

A young, dynamic filmmaker was born.

Adrian was among 42 young people, and those who continue to contribute to youth development, honoured in an awards ceremony held at the National Center for the Performing Arts on Thursday.
Nicholas Knowles, Head Boy at St Andrew's School, received the Director's Cup, which was presented by Director of Youth, K. Darron Turnquest.

Knowles set himself apart from the rest when he made a personal decision to help the people in Haiti ravaged by the earthquake.

Since then, he has successfully organised sending over 800 pairs of shoes to Haiti, and continues to teach his fellow students and colleagues the importance of self sacrifice.
Angel Cartwright, present Miss Teen Bahamas, won the Pacesetter Award for community service - she uses her platform of youth leadership to motivate young people all over the country.
The Most Distinguished Youth for New Providence went to Anastarcia Huyler; Cat Island's Most Distinguished Youth is Alancia Gilbert; Eleuthera's Most Distinguished Youth is Delphine Carroll; Andros - Deangelo Ferguson; Grand Bahama - David Ferguson; Inagua - Garrinque Taylor; Exuma - Howard Bethel; Abaco - Claudisha Cornish; Long Island - Alicia Adderley; Mayaguana - Jada Charlton; Bimini - Jamero Pinder; San Salvador - Terriah Daxon; Crooked Island - Shaniqua Moss; Acklins - Kelsey McPhee.
The Pacesetter Award for Business went to Jordan Peterson; for Creative Arts - Keith Gray; for Religion - Ruel Strachan II; Sports - Shaunae Miller; Education - Merit Scholar Shannon Butler.
Youth Leaders Awards went to: Stephen Brown, Ellis Bodie - Young, and Lolita Henfield. The Youth Enterprise Award went to Lornie Moultrie.
The Youth Organisation Award went to the Zonta Club of Nassau.
The ceremony was held as part of National Youth Month - which carries the motto, 'Celebrating Youth... The Journey Continues.'