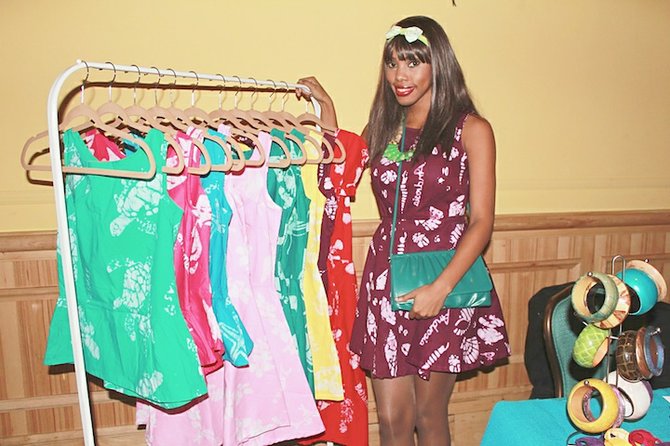 By JEFFARAH GIBSON
Tribune Features Reporter
jgibson@tribunemedia.net
UNFRUITFUL efforts to find properly fitted and inexpensive clothing, coupled with a love of fashion led Bahamian entertainer Bodine Johnson to tap into another dimension of her creativity, fashion design.
Everyday Island, a new clothing line designed by the singer made its debut at the recently held Little Pink Party by KhanAali Media Group. Bodine designed a sample rack of clothing and sold a number of hair bands, scarves, peplum tops and skater dresses during the event. The KMG team also sported her designs.
"I have always loved Androsia prints and tribal/Caribbean prints and patterns. When I was younger it was difficult to find pieces in that fabric that were modern and wearable every day. Most designers make traditional Caribbean fashion with it or hide the beauty and simplicity of the fabric behind sequins and appliqué. I think that they are all beautiful, but what I wanted was something that I can pull down out of the closet and wear every day," said Bodine.
Androsia is such a beautiful fabric and perfect for the climate of the Bahamas. It is durable and versatile. I wanted to play on those strengths and turn them into something amazing," she told Tribune Woman.
Everyday Island currently consists of cap-sleeved wrap dresses, sleeveless maternity tops, mini dresses, sleeveless and cap-sleeved peplum tops, and girl's/ladies' hair bands made from Androsia. Bodine is also experimenting with a other styles and patterns.
One of Bodine's clients was fascinated with her creativity and her use of Androsia.
"People only make ugly things with this fabric, but you managed to do something wearable and cute," said one of Bodine's customers.
"I have always loved fashion and the possibilities that fabrics and prints offered one in terms of self-expression. Really, for me, it came out of necessity. For example, going to work, because of my body shape, the traditional length skirts in my size would be too short in the back or would not lay quite right; buying bigger sizes was not much better. I refused to look frumpy. I started perfecting one or two dress styles and I tweaked the hems so that they would be longer in the back and fall on my knee in the front. It worked," said Bodine.
"I am still laughing at the concept that I actually have a line. When did that happen? Everyday Island is a reflection of my personality and style preferences. I like anything simple, fashionable (not trendy), flirty and sophisticated," she said.
Bodine has been dabbling into fashion designing since she was 18-years-old and has made several signature creations since then.
"I do not even think I am a fashion designer. I am still learning how to sew. Some attempts back then were successful and others not-so-much. I have made evening gowns for myself, jackets, and most notably clothes for my stage appearances and the Intoxicated Music Video.
Last year, Bodine designed 15 costumes for 'The Gaulin Bride' stage play which included jackets, peplum tops, high-low dresses and straw corsets.
"The cast members still wear their pieces. I am proud of that."
"I also made a few pieces for Shanae Strachan, one of this year's Miss Universe Bahamas contestants, notably a full-length wrap dress and a sand-coloured high-low Androsia peplum top. My sisters Kandice, Shanae and Georgette at Commonwealth Fabrics all encouraged me to see where it could go and here I am. I guess I can say that Everyday Island is my first attempt at a commercial line," said Bodine.
"My experiment is taking on a life of its own, but the goal is to have the line featured in commercial stores next year," she said.