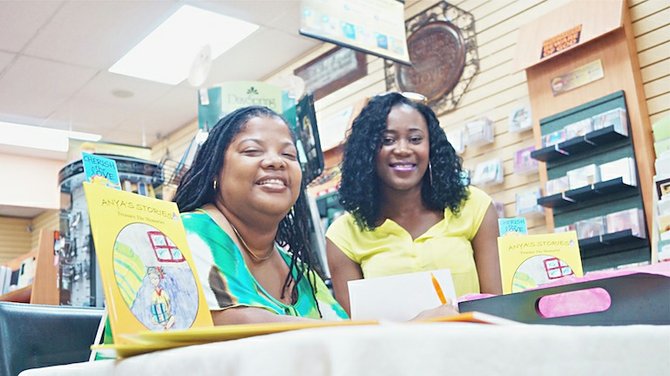 By ALESHA CADET
Tribune Features Reporter
acadet@tribunemedia.net
THIS MAY be her first published book, but Bahamian author and storyteller Enisca Jones said she is no stranger to the world of books. She believes books tap into the creative imagination and help people out of stressful situations.
Enisca never thought she would write a book, much less a children's series. She was shocked when the characters came to her in a dream. However Enisca pursued her passion, launching her first book "Treasure the Memories" in the Anya's Stories Collection. The event took place earlier this month at the 100 Percent Bible, Book & Gift Shop at the Mall at Marathon.
"The series is about a seven year old girl by the name of Anya and the stories are told from her perspective as a child as she is growing up. In this first book she lost someone very dear to her and her parents are helping her to learn how to cherish the memories and treasure the love that this person gave to her," said Enisca. Readers discover how Anya's parents help her to build a treasure box of memories.
Anya's stories are unique, but they appeal to children and adults because of the practical lessons. The stories are held together by a consistent message, never forget the child within, and sometimes he or she just needs to come out and play.
Other books in the collection will focus on independence, responsibility and learning lessons.
"You will see Anya learning to be independent with things being taught, like how to cross the street. The third book is about responsibility, where she wants a pet and her parents tell her she has to learn how to take care of something small before she can get a puppy," said Enisca.
In the fourth book Anya decides whether or not she still wants the puppy, after all the work of taking care of the small pets. In the fifth book she learns about listening. In this book she climbs a tree and falls down and breaks her arm. The lesson is: "If you don't listen you will feel".
When she initially sat down to write the collection, Enisca first thought the book would be for adults. 
"When I was younger I loved to climb trees and shoot marbles. Life becomes so cluttered and stressful that we forget to let our kids do these things. The book has a two fold purpose. For kids, it is just learning the lessons of independence and responsibility. It is taking you back as an adult to your childhood days when you remembered how to play," said Enisca.
She said it has been a long journey to launch the boo, and she knows her launch is just the beginning.
"I have another book series that I am working on, so I see Anya going international. There are no limitations to where a book or a character can go. We have so many negative images in society these days and her job is to bring goodness to encourage people," said Enisca, who hopes her illustrations and creative style will make her stand out.
Anya's Stories can be found and available for purchase at the 100 percent Bible, Book & Gift Shop at the Mall at Marathon. For more information visit www.anyasstories.com.