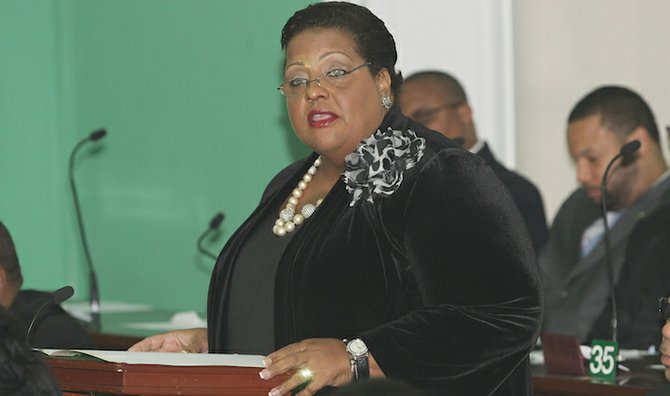 By Rupert Missick Jr
FNM Deputy Leader Loretta Butler-Turner spoke to The Tribune about the future of a post-Hubert Ingraham FNM, the role of women in politics, the possibility of a female Prime Minister, the legacy of her grandfather and how she felt shut out of the decision to choose Hubert Minnis as FNM leader.
While she believes the Bahamas is ready for a woman prime minister, Mrs Butler-Turner is adamant that the question should be whether or not the Bahamas is ready for the most competent individual of the day to run the affairs of the country.
"If a woman is confident and capable and enjoys the support of the Bahamian people, there is no reason she should allow anything to prevent her from offering herself up for service," Mrs Butler-Turner said.
She said that Bahamian society must evolve to a place where men and women realise that it is impossible to build a country for 100 per cent of the people using only 50 per cent of the nation's brain trust.
"If you are talking about a representation of the society itself, our numbers are way off in terms of what we have representing us in parliament today. There is one female out of eight on the opposite side. On the governing side, they account for less than 1/10.
"The representation of the people should be a microcosm of what makes up the society. That doesn't mean that we have to introduce quotas, but political parties have to have the political will to put forward more competent persons – male or female – and they have to make a concerted effort to bring into the mix a larger reflection of our society," Mrs Butler-Turner said.
The regard women receive when it comes to their participation in the political process she said was highlighted on the day the FNM chose a leader of the opposition.
After the results of the last general election came in and Mr Ingraham announced his retirement from politics and the House of Assembly, the FNM deputy said that the party decided to hold a meeting to select a new leader the day following the recount at 10am.
Mrs Butler-Turner said that she would not have been able to arrive at the meeting at 10am because of the logistical problems getting to Nassau from her constituency in Long Island where she spent election night and the day of the recount.
These issues, she said, were discussed with the organisers beforehand, but a decision was made not to adjust the time.
She said that one of the disappointing things about that situation was that as a woman, and the only woman elected out of nine, the decision of the party's new leader was made in her absence.
"When I walked in at a quarter to 11, they already selected the leader of the party, not that I would have had a problem with it. I just felt that with such small numbers I certainly should have been a part of that selection process to say, 'Yes, I agree with the majority of my colleagues'," the FNM Deputy said.
However, she moved on knowing the urgency for the party to regroup. "I think that was a grave mistake in not waiting to be inclusive of all those who were elected. I felt almost like my vote didn't matter. I wasn't able to be a part of that.
"Today, I look on that and say it was one of those things, but in building
again we have determined that we must be inclusive of everyone," she said.
Following that, Dr Minnis held a conference for all officers of the party and Mrs Butler-Turner had the opportunity to bring the welcome address.
"Because of the feelings I had or the thoughts that I had, my approach to the opening remarks was to go back to the origins of the FNM and I picked up on one of their very first slogans "All Together."
"I still feel today that for us to be strong we must be all together again. Whenever I have an opportunity to rise on a political platform to rally the troops of the FNM, I harken back to the origins of our party the 'all together team'," she said.
But what about a post-Hubert Ingraham FNM? Some feel that the last election was a referendum on the former Prime Minister's leadership.
This fact seems to have left many in the party unsure as to whether or not they should embrace the former leader's legacy.
But for Mrs Butler-Turner, the choice is clear. She said that Mr Ingraham has transformed and shaped the modern Bahamas and it would be foolish for the party to be dismissive of its history or forget why it exists.
"We can't forget those of us who made great sacrifices and brought great change to the Bahamas post 1992. I think the fact that we have in our midst a living iconic Hubert Alexander Ingraham is no small thing.
"I think we as a party can tap into his huge reservoir of, not just intellect, but institutional knowledge," she said.
Mrs Butler-Turner said that she first came into contact with Mr Ingraham when he was an independent candidate through her family's funeral business.
"He was a regular customer to our establishment and he was close to my parents who did a lot of burials in North Abaco. In addition to building a business relationship with him, I started to admire him.
"It was in 1991 I remember him sitting in our old funeral home throwing a challenge out to my dad saying, 'Now is the time because I am going to win this election'.
" I sat there wide eyed and said wow this guy is really dynamic. He said to my mother I know I got her (meaning Loretta). Do I have you?"
However, Mr Ingraham's relationship with the Butler family goes further back than that. Mrs Butler-Turner said that she later discovered that in the late '50s, Mr Ingraham's family had a relationship with her uncle.
"When he was just a little boy, Joseph Butler standard bearer for the PLP in Abaco and Hubert ingraham's family took him in. The story is told that at nine years old Mr Ingraham went campaigning with my uncle with no shoes going door to door, even though they were in a predominantly UBP area. So I grew with this admiration for Hubert Ingraham," Mrs Butler-Turner said.