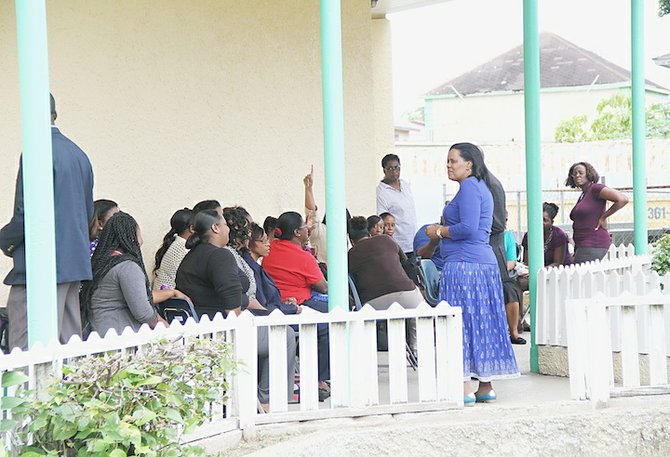 By AVA TURNQUEST
Tribune Staff Reporter
aturnquest@tribunemedia.net
CLASSES at Stephen Dillet and Uriah McPhee primary schools will remain closed until next week as officials work to repair deficiencies at the window-less institutions.
Confirming allegations made by teachers and parents this week, Director of Education Lionel Sands said the ministry has hired contractors to repair air conditioning systems and remove mould from Uriah McPhee Primary School. Parents will be notified on Sunday evening whether or not classes will resume on Monday.
Mr Sands said 'challenges' were not present when the schools were assessed for repairs in June, and therefore not included in the scope of works conducted during the summer months.
Although the schools were checked before the fall term began, Mr Sands said the faults with the air conditioning systems were not as pronounced due to the absence of students, teachers and administration.
Mr Sands also confirmed that Stephen Dillet Primary School had formerly been plagued by rats; however, he said that the infestation had been taken care of. He noted that reported odour could be attributed to the decay of any leftover carcasses.
Both schools are more than 30 years old, and Mr Sands said the institutions had the capacity for 800 students. Mr Sands said there were some 758 students at Stephen Dillet, and around 735 students at Uriah McPhee.
Mr Sands said: "I've been around to most of the schools [in New Providence] over the last few days and I have not seen where there are concerns in any of the schools that it would require students not to attend schools or teachers not to provide the service for which they are paid.
"The two schools where we found that would be Stephen Dillet and Uriah McPhee and you would appreciate that these are the only two schools with the type of physical structure that they have and also the number of years - they have been in existence from 1969."
The challenges have prompted the government to consider establishing maintenance units at individual schools. Mr Sands added that a proposal has already been submitted for a preventative maintenance program.
Repairs at Uriah McPhee are expected to be completed before the weekend, with only two air condition units to be fixed.
At Stephen Dillet, repairs are estimated to cost more than $50,000.
Mr Sands said: "We have to make up the time whether it is extending the teaching learning process in the afternoon, after school, or weekends. We will accommodate teachers for doing these kinds of things and then remunerate them to bring the kids up to speed so that the time loss is diminished."
Teachers sat out at both schools on Wednesday to protest conditions amid ongoing dispute between the Bahamas Union of Teachers (BUT) and the government over various school issues across the Bahamas.
The union filed six trade disputes last week. BUT president Belinda Wilson said yesterday "some progress" had been made.
Conciliation talks between the BUT and the government will resume on September 23.
Yesterday, Mr Sands said there was no tension between the two organisations.
He added: "There is nothing for us to hide. The teachers are our teachers and the students are our students so if they are not given the kind of environment for this process, the teaching-learning process, it would effect all of us deleteriously."