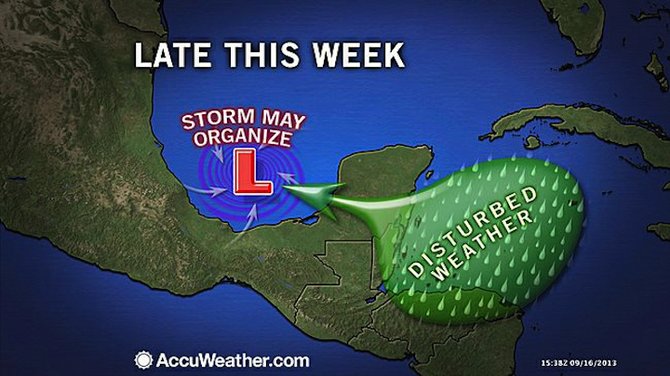 THE area from the northwestern Caribbean to the southern Gulf of Mexico could be a breeding ground for several more tropical systems in the Atlantic basin.
An overall area of disturbed weather will remain in the area that could generate from one to three systems through the end of the month, say forecasters at AccuWeather.com.
According to AccuWeather's Hurricane Expert Dan Kottlowski: "One system is likely to take a slow drift toward the west-northwest from the Caribbean, across the Yucatan Peninsula and into the southwestern Gulf this week."
While there is a chance that this system slowly develops, the most important impact worth monitoring is the rainfall it produces and where that rainfall will go.
The same broad area of disturbed weather could generate a couple more disturbances later in the month, says Alex Sosnowski, Expert Senior Meteorologist at AccuWeather.com.
Steering winds over the region could be such to drive some of that moisture toward the northeast across Cuba, the Bahamas and perhaps South Florida.
The entire area from the northwest Caribbean to the southern Gulf of Mexico, the Florida Straits and waters just east of Florida will be watched closely for tropical development this week and the next.
Kottlowski said: "Disruptive winds and dry air will tend to limit development farther east over the tropical Atlantic to the coast of Africa. However, conditions will remain more favourable over the southwestern part of the Atlantic basin during the next couple of weeks."
Elsewhere in the Atlantic, Humberto has regained tropical storm status in the middle of the basin but is not expected to directly impact land areas through Friday.