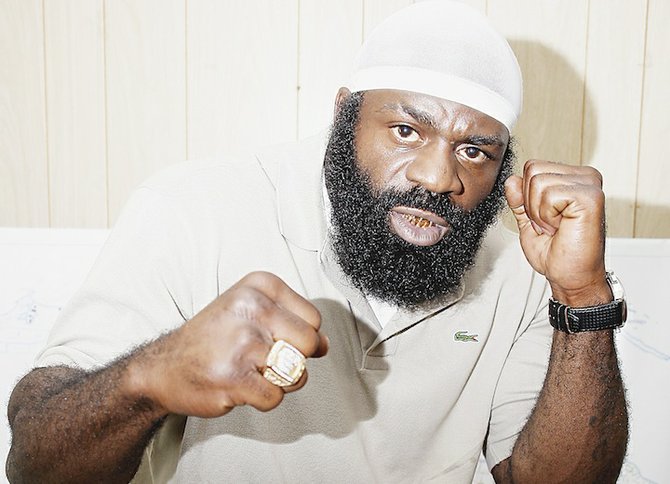 By RENALDO DORSETT
Sports Reporter
rdorsett@tribunemedia.net
Ready to step back into the ring after a nearly year-long hiatus, Kimbo Slice has expressed interest in a return against one of the biggest heavyweight boxers of all time.
In a recent interview with TMZ, Slice, who's real name is Kevin Ferguson, announced that he expects to fight 400-pound heavyweight Eric "Butterbean" Esch in November.
"I'm getting ready for a fight sometime in November. Hopefully, if Butterbean plays his cards right, we'll go at it. He's still doing his thing, trying to make a little comeback," he said.
Over the course of their careers both fighters have made the transition from amateur fighting to mixed martial arts (MMA) to professional boxing and now look to capitalise on a fight first rumoured more than five years ago.
Slice, 39, has not fought since January when he won over Shane Tilyard via a second round knockout at the Entertainment Centre in New South Wales, Australia.
With the win, the 6'1" 234 pounder improved to a 7-0 record since making the shift to professional boxing in 2011.
Six of his seven bouts have ended in knockouts, four in the first round. His only fight to go to a decision was unanimous decision win over Charles Hackmann.
In his boxing premier, Slice's knockout punch sent James Wade flying through the ropes en route to the win.
The 47-year-old Butterbean, also known as Eric Esch, is in the midst of a three fight losing streak.
Standing at 5' 11", 417 pounds, his last win came in 2007 in a second round TKO over Joe Siciliano in Worcester, Massachusetts.
Following a 2009 split decision loss to Harry Funmaker, Butterbean took a nearly three-year hiatus and returned to the sport in 2012.
In a 2008 interview with FightLine.com, Butterbean first mentioned a prospective fight with Slice.
"I would love to fight Kimbo Slice, a good friend of mine is training him. I would love to fight him, Kimbo came out and stood up with Tank Abbott and knocked him out, but he wouldn't do that with me. It would be a heck of a fight, but I would knock out Kimbo Slice before the fight got too far though."
Slice became an Internet sensation when his series of street fights became popular on Youtube.com. He converted a career as a backyard street fighter into becoming one of the most sought fighters in MMA history.
His career as an MMA fighter in the Ultimate Fighting Championship was short lived however, limited to just two fights. Slice lost his last MMA fight in 2010 to Matt Mitrione on the undercard of UFC 113 in Montreal, Canada. He finished with an MMA record of 4-2.
Just days after the bout, UFC president Dana White announced that Slice had been dropped from the brand as one of its fighters and would no longer be featured at its events.
Slice began his professional MMA career in 2007 with a first round submission win over Bo Cantrell in just 19 seconds. His next fight was a first-round knockout over MMA legend Tank Abbott, this time in 43 seconds. He got a third-round knockout of James Thompson and suffered his first professional defeat months later in a surprising first-round knockout loss to Seth Petruzelli, a loss that many thought initiated the end of Elite XC.
After the brief but much-hyped stint in the world of mixed martial arts, Slice looked to capitalise once again on his notoriety, with an attempt at professional wrestling. He was set to take on former sumo wrestler Shinichi Suzukawa in 2011, but was forced to withdraw due to injury.
Butterbean last fought in June but was forced to retire against Kirk Lawton in the second round, due to a shoulder complaint.
Known as the "King of the Four Rounders," Butterbean has a record of 77-10-4 with 58 knockouts.
In a career that has spanned over 20-years, the versatile heavyweight rose to prominence through the Toughman contest series. He competed in pro boxing from 1994-2003 before making a transition once again to kickboxing and MMA in the K-1 and Pride promotions.