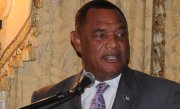 By NATARIO McKENZIE
Tribune Business 
Reporter
nmckenzie@tribunemedia.net
PRIME Minister Perry Christie yesterday indicated that the Government would likely reject terms sought by Cable & Wireless Communications (CWC) for it to give up majority equity ownership in the Bahamas Telecommunications Company (BTC), adding that talks between the two sides were in the final stages.
Speaking with reporters at a conference hosted by the International Monetary Fund (IMF) and the Ministry of Finance, Mr Christie refused to call the Government's attempt to regain 51 per cent equity ownership of BTC a failure.
"The negotiations have reached a final position," he said. "I have communicated with the chairman [of CWC] and I have indicated to him a final position in response to his letter to me, which indicated that we were near a settlement if I agreed on a particular proposition.
"I have indicated as much, and I have said that if there is no further response from him then we must then inform the Bahamian public of the position as it is, meaning that Cable and Wireless has not found it possible to concede the 2 per cent in circumstances acceptable to the Government.
"I want to give them an opportunity to reply to my letter. I'm told they are in the process of doing so, and I don't want to say anything that could cause them to be influenced by that."
It is unclear what the "proposition" is referred to by Mr Christie, although it could be CWC seeking an extension to the BTC cellular monopoly that is set to expire on April 6 next year.
Based on his comments, it appears that the Prime Minister wants to return to the original BTC privatisation model pursued until the 51 per cent majority sale was agreed with CWC by the former Ingraham administration.
This would see the Government regain 51 per cent majority equity ownership, leaving CWC with 49 per cent but still having management control. Which side will have a Board majority, and control, is unclear.
Mr Christie said yesterday: "They have been concerned about the control of BTC, but we told them that was never an issue; that we would not tamper with the management of BTC.
"Even when we were talking about having 51 per cent of the shares, we were conceding that the management would be to the minority shareholders. The only issues would be what price we would be prepared to pay for the 2 per cent. CWC has put forward some conditions and I have replied with respect to those conditions."
Mr Christie, however, refused to label the protracted BTC negotiations a failure. "It's not failed. I would expect that we are at the final stages of the negotiations. There is one letter to be written, and that letter is from them in response to me, and when I receive that I will tell you what the position is," said the Prime Minister.
The Government's four-member negotiating team features Arawak Homes chairman Franklyn Wilson; former BTC chief executive Leon Williams; ex-Ministry of Finance legal adviser Rowena Bethel; and ex-attorney general and key confidant of Mr Christie, Sean McWeeney.
They began face-to-face talks with their CWC counterparts back in October of last year, as the Christie administration forged ahead with plans to regain a controlling interest in BTC. The Government currently owns 49 per cent of the company, and CWC 51 per cent.