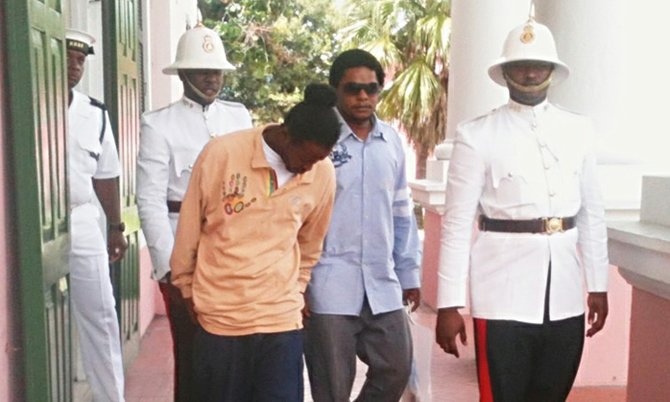 By LAMECH JOHNSON
Tribune Staff Reporter
ljohnson@tribunemedia.net
THE question of who murdered Eamon Hepburn hours after he "seeked" at a woman in a convenience store remains unanswered following the acquittal of two men in Supreme Court yesterday.
Charles Panday, 40, of Malcolm Road, and 28-year-old Rodney Sylvester, of Winders Terrace, stood trial this week in connection that January 16, 2011 murder but were unanimously acquitted after the Crown offered no further evidence against them.
They both denied the charges from the beginning.
On Tuesday, the jury heard evidence from Panday's former girlfriend and the chief police investigator in the case.
The ex-girlfriend testified that Panday seemed upset after she told him she didn't know who had 'seeked' at her while she was at Margo's Convenience Store.
The police investigator testified that Panday was asked a series of questions about Hepburn's murder but denied knowledge or involvement, claiming he was at home at the time.
Panday was released pending further investigation, but in early April, Davis said he'd received information from Valentino Bastian and recorded his statement.
As a result, on April 3, Panday was again interviewed under caution and charged with murder.
The officer said he interviewed Sylvester on April 7, who denied any knowledge or involvement but Sylvester was also charged with murder.
Bastian, and another prosecution witnesses were expected to testify next regarding that incident, in which Hepburn was gunned down in Kennedy Subdivison by two men who fled in a green vehicle.
However, when their names were called on Tuesday afternoon and Wednesday morning, they were not present.
The Tribune understands that the two men, who were vital to the prosecution's case, could not be located despite police attempts.
This led to legal discussions before Justice Indra Charles yesterday.
When the jury was recalled to the courtroom, prosector Kenda Kelly informed the court that "at this time, the Crown offers no further evidence."
Justice Charles told the jury that the evidence presented by the Crown was not sufficient to prove the charge of murder, and directed the jury to acquit the men.
Just last week, Panday was discharged in an armed robbery case, in which is co-accused was Valention Bastian.
Prosecutors presented a nolle prosequi to Justice Vera Watkins, signed by the Attorney General, asking that the case against 21-year-old Bastian and Panday be discontinued.
The alleged victim of the $6,000 hold-up, who believed the pair to be members of the 'One Order' gang, refused to testify in court if it was not done through video conferencing, claiming he feared for his life.
However, the judge, in a ruling The Tribune obtained, dismissed the application on the basis that there was no indication or evidence to suggest the alleged victim in the case "may be in jeopardy should he appear in court to give evidence".