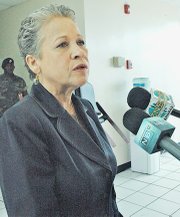 By AVA TURNQUEST
Tribune Staff Reporter
aturnquest@tribunemedia.net
LONG sought-after rate increases for horse and carriage drivers are finally on the horizon, according to Transport Minister Glenys Hanna-Martin.
Mrs Hanna-Martin confirmed yesterday that widespread reform of the surrey industry could be realised within the next two months, with talks between owners and regulators progressing smoothly.
Mrs Hanna-Martin said: "We are in the final stages of an action plan which is expected create a new paradigm in the industry.
"The strategies forthcoming will involve issues relative to stabling, to ensuring there is qualified personnel to inspect the animals because we have veterinarians, but I am being advised that there is no one who is specialized."
She added: "Also in the discussion is the increase in the rates, which have not changed since the 1960s."
Mrs Hanna-Martin said there were some five or six horse and carriage owners, adding that strategies discussed focused on quality training for drivers and new tour routes.
The Cabs and Hackney Board met with stakeholders and invited observers on Wednesday, according to Mrs Hanna Martin, who said the group has set a fixed timeline for the implementation of modernized regulations, a review of operations at Prince George Wharf, and the upgrade of carriages.
Earlier this week, the Bahamas Humane Society issued an ultimatum to the government over long-standing concerns about the condition of surrey horses in New Providence.
President Kim Aranha warned that the animal rights organisation will withdraw from government committees unless significant improvements are made by December 15.
However, Mrs Hanna-Martin explained yesterday that fast-approaching critical reforms are driven by extensive dialogue with stakeholders, including the Cabs and Hackney Board, of which the Bahamas Humane Society is a member.
Mrs Hanna-Martin said: "I think that today, in this era, the ingredients are there for a collaboration – that is unprecedented. There is just a dialogue that has developed that is very hopeful, moreso than in the past."
She added: "This (Cabs and Hackney) board has the Humane Society on it, and is chaired by a veterinarian for the first time ever. It is usually headed by Road Traffic. There's another private veterinarian on it as well and other agencies. We sought to enhance focus on animal well-being, and they have been in prolonged discussions on all of the issues and now at the stage where we can unfold a plan shortly that will really create a new and improved surrey product."