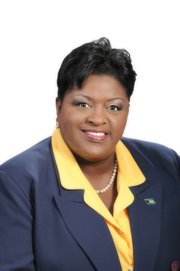 By KHRISNA VIRGIL
Tribune Staff Reporter
kvirgil@tribunemedia.net
SOCIAL Services Minister Melanie Griffin has revealed an alarming rise in poverty in the Bahamas.
Just two weeks into the new academic year, the minister told The Tribune there has been a substantial increase in reliance on government assistance to feed and equip children for school.
So far, 1,606 families have requested uniform assistance for just over 3,500 children.
Mrs Griffin added that there is also a higher demand for emergency food stamps – a relief system that is growing.
The minister explained that the situation is a direct result of the current state of the economy.
"With all that I have just said, we still have requests coming in. And from what we could see definitely we are about 200 over what we had last year in terms of uniform assistance," she said.
"There is still a lot of need out there and we are doing our best.
"No government can do it all by themselves and the situation has been quite intense, so there is a lot of need."
More and more schools have also said that there was an increase in the need to provide not only lunch, but now also breakfast for students.
Last year, there were 1,200 students on the government's lunch programme in New Providence alone.
"We had to get further funding of just over $5 million, just alone for food, and that's not even lunch," Mrs Griffin said. 
"In the summer, emergency food stamps are becoming more and more prevalent. The recovery is there, but it is pretty slow.
"We have also learned that while the government provides a lunch programme, more and more educators are indicating that there is a need for breakfast for children."
On Wednesday, three guidance counsellors from the TG Glover, Albury Sayles and Woodcock Primary Schools estimated that this school year had seen the highest number of students needing assistance than ever before.
At each of their schools, they described children as threadbare, in need of school supplies and not having enough food.
They appealed to corporate Bahamas and private citizens to partner with the government to assist children who are in need.