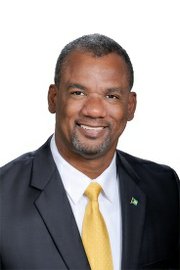 By RASHAD ROLLE
FOR the first time in almost two weeks, classes resumed at Stephen Dillet and Uriah McPhee primary schools yesterday.
Education Minister Jerome Fitzgerald said that teachers at both institutions taught students, adding that he had a cordial and satisfying meeting with teachers of Stephen Dillet and expects to meet with Uriah McPhee teachers today.
However, some teachers at Stephen Dillet held classes outside because of problems with the air conditioning unit in their department.
Teachers at the two schools first refused to teach on September 12 in protest against structural problems in the schools and last week education director Lionel Sands said teachers who had not taught students "will face consequences."
However, Mr Fitzgerald said yesterday that the teachers will not face pay cuts because he has concluded that "their concerns were legitimate."
As for Carlton Francis Primary School whose teachers engaged in a sit-out last week Friday, Mr Fitzgerald said the ministry has supplied the school with new chairs and that classes there also resumed as normal yesterday.
Regarding his meeting with Stephen Dillet teachers, he said: "I interacted with a number of the teachers a day after meeting with members of the PTA and school board. It was very cordial. They thanked me for listening to them. I understood the level of frustration they have experienced over the years. We went through what the environmental person had said and I told them I would visit both schools every morning for the next week to make sure things are done like they are supposed to be done. It was a very respectful meeting."
Mr Fitzgerald also said contrary to reports by members of the Bahamas Union of Teachers (BUT), Stephen Dillet does not have a fibre glass problem. He said: "There was no fibre glass issue. Fibre glass is up in the attic. You're not even supposed to go up there and it had no bearing on the AC system. But we still had a contractor clean it up."
He added that the Ministry of Environment has performed air control tests in the school buildings, concluding that "there is nothing harmful to teachers and students." He said persons from the Department of Health will reassess the schools on Monday.
Meanwhile, conciliation efforts between BUT and the Ministry of Education continued at the Department of Labour yesterday. BUT president Belinda Wilson said: "We ain getting nowhere cuz all they doing is lying, the next side. We ga be here all week."