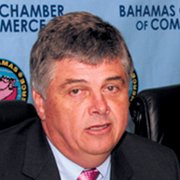 By NEIL HARTNELL
Tribune Business Editor
nhartnell@tribunemedia.net
A top investment banker yesterday predicted that the Bahamian stock market will next year "at least" match the 10 per cent upside he anticipates for 2013, telling Tribune Business: "New Providence needs to get out of a hole."
Emphasising that he remained "bullish" on the medium-term prospects for both the stock market and wider Bahamian economy, Michael Anderson, RoyalFidelity Merchant Bank & Trust's president, said the impact from Baha Mar's 5,000 full-time jobs would outweigh any drag caused by Value-Added Tax (VAT) and other negatives.
Calling on investors and the private sector to analyse their prospects over a three-five year time period, the RoyalFidelity chief said Baha Mar's hiring would inject $150 million into the economy annually through salaries ($30,000 per capita average) alone.
Arguing that Bahamians had "a tendency to get lost in short-term issues", and failed to see potential benefits/opportunities coming over the horizon, Mr Anderson said New Providence had "really good potential for growth" in the next three to five years.
And, compared to other Caribbean nations such as Barbados, Mr Anderson said that "in a relative sense, we're great" from an economic perspective.
Pointing out that the Bahamian stock market recovery he had predicted for 2013 was already happening, Mr Anderson said it was being driven by the return of institutional and sophisticated retail buyers.
Their activities meant the supply of shares in highly-desired BISX stocks was starting to dry up, pushing their prices higher.
Disclosing that he saw no reason to change his earlier prediction that the Bahamian stock market would close 2013 up 10 per cent over 2012 levels, Mr Anderson said investors "can expect at least that going into next year".
"I haven't really changed my view on that, and think next year will be at least as food," he told Tribune Business.
"Generally, a rising tide lifts all boats. People ought to start to deal with these things, and prepare to expand their businesses to accommodate growth as opposed to sitting back and waiting for something to happen."
Data provided by RoyalFidelity Capital Markets for the year to September 17,2013, showed that 60 per cent (12 of 20) BISX-listed stocks had enjoyed capital (share price) appreciation for the year-to-date.
Consolidated Water led the pack at 87.84 per cent, followed by Fidelity Bank (Bahamas) at 30.48 per cent. Close behind were AML Foods with 28.83 per cent capital appreciation; FINCO ay 23.48 per cent; and Bahamas Waste at 20.37 per cent.
While some of those companies may have been aided by share 'buy back' programmes, Mr Anderson said many listed companies were still "conservatively" priced and valued.
"There's a number of stocks that have really been lagging in terms of price appreciation, despite good underlying earnings," Mr Anderson told Tribune Business.
Pointing to a stock like Colina Holdings, which enjoys a 7.44 per cent dividend yield but has seen a 3.2 per cent year-to-date capital depreciation, the RoyalFidelity chief said the company was producing more consistent results and likely to experience an upswing if the economy improved.
And, noting Cable Bahamas' growth potential from its ambitions to build "another Cable" in Florida, he added: "To have a company like Cable trading at a price earnings ratio of 9.0, based on historical earnings, is very conservative."
And Fidelity Bank (Bahamas) 10.5 price earnings ratio, again based on historical earnings, failed to account for the bank's profitability recently "doubling" and, according to Mr Anderson, should be more in the range of 12-14 times,.
"Shareholders are not getting rewarded for underlying earnings of the companies," he told Tribune Business. "There's still too much negative sentiment, and a negative drag on the general market.
"If we can get any form of growth in this economy over the next year, we will see share prices increase."
Mr Anderson told Tribune Business that many Bahamians "don't have any sense" of what Baha Mar's impact was likely to be, especially as it started to hire hundreds of Bahamians in preparation for its winter 2014 opening.
"I remain bullish, despite these weird and wonderful things happening , like VAT, and despite these drags on the economy and people's incomes. Towards the end of the year we may be struggling to cope with that," he added.
"But this island has not seen the employment of 5,000 people before. What people need to look at when investing is a three-five year timeframe, in which there will be a positive impact."
Despite concerns over whether Baha Mar would be able to fill its net 2,100 room inventory increase, and fears it might split the high-end market with Atlantis, Mr Anderson said the project's construction completion was well-timed to coincide with a recovery in the global economy.
"There's a tendency to get lost in short-term issues, and people forget the long-term benefits," Mr Anderson said. "There's enough of a drag on the economy, and a tendency not to look past things."
He compared the Bahamas to Barbados, which he has just returned from, and which is struggling with a debt-to-GDP ratio of more than 100 per cent compared to the Bahamas' 60 per cent.
The southern Caribbean nation, burdened down by VAT and income tax, also lacked a project of Baha Mar's $2.6 billion magnitude and, with no infrastructure projects to speak of, had no money coming in.
"We're not great, but in a relative sense we are great," Mr Anderson said in comparing the Bahamas to Barbados.
"We have really good potential to grow the island for the next three-five years. Things do come back, and we have to be prepared to deal with the positive side. This island needs to get out of a hole."