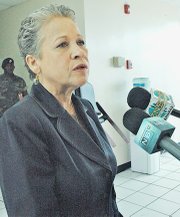 By AVA TURNQUEST
Tribune Staff reporter
aturnquest@tribunemedia.net
ONE year on since the renewed promise to reform public transportation, the government is still in talks with jitney owners over the impending unified bus system.
The issue of how to address the current system of "leasing" is still a major concern, according to Transport and Aviation Minister Glenys Hanna-Martin, who expressed confidence that discussions were moving forward in good faith.
"You have the franchise holder with one interest, and the leaser with another interest, how that person will be dealt with in the unified bus system is a major concern," said Mrs Hanna-Martin.
"From our point of view it's part of the analysis, how will someone that fits that description, how will they fit in that new paradigm.  A lot of persons have been leasing for decades, we have to make determinations on all these matters."
And she added: "We are committed to a transportation system that makes sense in this country, one that is reputable and one that people feel comfortable with."
Plans for a unified bus system have moved at a snail's pace under successive PLP and FNM administrations.
As far back as 2006, jitney drivers, franchise owners, and the public have called on the government to implement a unified system that would bring all operators under one entity. At that time, then Governor General Arthur Hanna vowed that the PLP government would bring legislation to enact the plan. In September 2009, then Minister of Works and Transport Neko Grant said the proposed initiative was still in the preliminary stages, and a final draft had not yet been presented to Cabinet. 
In 2010, a College of the Bahamas study estimated that a strengthened jitney system could save a Bahamian family more than $30,000 over 10 years. The COB faculty group, the 1962 Foundation, warned that the current inadequate infrastructure "deepens our growing trade imbalance and national debt".
In an interview with The Tribune, Mrs Hanna-Martin explained that plans for the unified bus system was a part of the IDB road development project, and that the government was undergoing a formal process to update the business model. In the interim, she said the government is engaged in parallel talks with owners and officials in a bid to ensure a smooth transition.
Mrs Hanna-Martin said: "We hope to come to an agreement on protocols that would seek to enhance the pubic transportation system, things like routes, stops, safety and security, deportment, as well as music on the buses.
"We are having an excellent dialogue with the owners, who have as great an interest in the improved system as anyone else because they are stakeholders."
Last year, Mrs Hanna-Martin said there were more than 500 individual owners operating within the public transportation system in New Providence. She explained the figure was irrational and ineffective, adding that it contributed to the reluctance of the public to use services.
In a Tribune poll last year, readers voted the training and certification of drivers as the most important change needed to improve public transportation. The regularization of bus drivers was backed by 220 voters, while 107 readers opted for passenger security, and 91 readers called for a review of the number of bus companies in operation. Record keeping on the number of buses in operation was also suggested.
Police officers also weighed in on the jitney debate last year, pointing out that passengers play a vital role in maintaining "tranquility and orderliness."