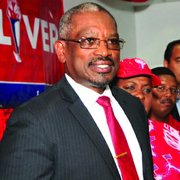 By SANCHESKA BROWN
Tribune Staff Reporter
sbrown@tribunemedia.net
FNM LEADER Dr Hubert Minnis claimed that 'Hurricane PLP" is single-handedly destroying the middle class in the Bahamas.
Speaking to The Tribune, Dr Minnis said it does not surprise him that more people are in need of welfare assistance considering the high taxes the PLP has placed on the backs of the Bahamian people.
He was responding to Minister of Social Services Melanie Griffin, who said there has been a "substantial increase in reliance on the government this year to feed and equip children for school.
"Poverty is going up but I do not know what they expect with all the increases in taxes that the PLP has placed on the public since coming in office.
"The introduced a processing fee on customs that placed a extra cost on people.
"The cost of electricity and the cost of food had gone up," Dr Minnis said.
"It appears Hurricane PLP is blowing through the middle class. There is a serious erosion. Poverty is increasing, people can't even purchase the food to eat, so they buy unhealthy food – eating that causes an increase in high blood pressure and diabetes.
"No one can live like this. The cost of light is almost as much as rent and mortgage.
"So of course more people need help.
"The PLP is destroying this country."
Just two weeks into the new academic year, Mrs Griffin told The Tribune that so far, 1,606 families have requested uniform assistance for just over 3,500 children.
The minister explained that the situation is a direct result of the current state of the economy.
"With all that I have just said, we still have requests coming in.
"And from what we could see definitely we are about 200 
over what we had last year in terms of uniform assistance," she said.
"There is still a lot of need out there and we are doing our best.
"No government can do it all by themselves and the situation has been quite intense, so there is a lot of need."
More and more schools have also said that there was an increase in the need to provide not only lunch, but now also breakfast for students.