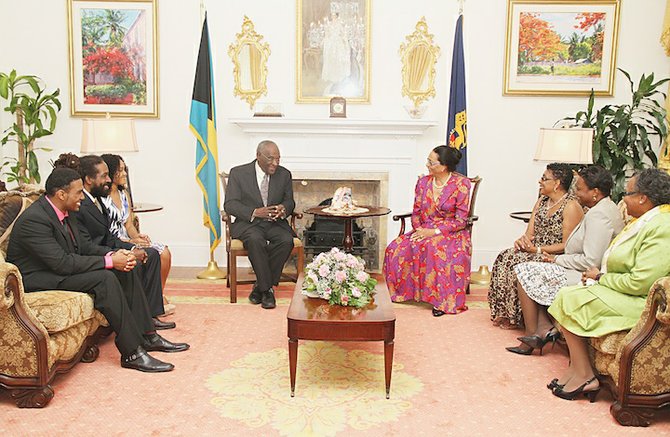 By RASHAD ROLLE
Tribune Staff Reporter
FORMER Assistant Commissioner of Police Paul Thompson yesterday presented Deputy to the Governor General Lady Marguerite Pindling with a copy of his first book, 'A Policeman's Story,' during a courtesy call at Government House.
Born in a poor farming village in Trinidad, where he was raised by adoptive grandparents, Mr Thompson writes that he was recruited for the Royal Bahamas Police Force in 1951 by Augustus "Gussie' Roberts.
He arrived in Nassau the following year and was posted to the Criminal Investigation Department where he spent most of his 30-year career.
Mr Thompson said it was former PLP MP Alfred Sears who encouraged him to write the book, adding that the memoir follows his life from when he was recruited to the police force to when he retired after years of playing a pivotal role in solving a number of high profile cases.
Though now retired, Mr Thompson notes that he is still "close" to the police force – giving advice to the commissioner, to junior officers, to politicians, doing research for newspaper articles and writing letters on subjects that he thinks might improve the Bahamas' crime fighting abilities.
He writes: "I came to the Bahamas a boy, and it was the Royal Bahamas Police Force that made me a man. This book is neither an autobiography nor a history. It is my recollection of 30 years well spent."
Mr Thompson will officially launch the book at the Cricket Club on Sunday at 6pm. The 23 chapter book costs $20.