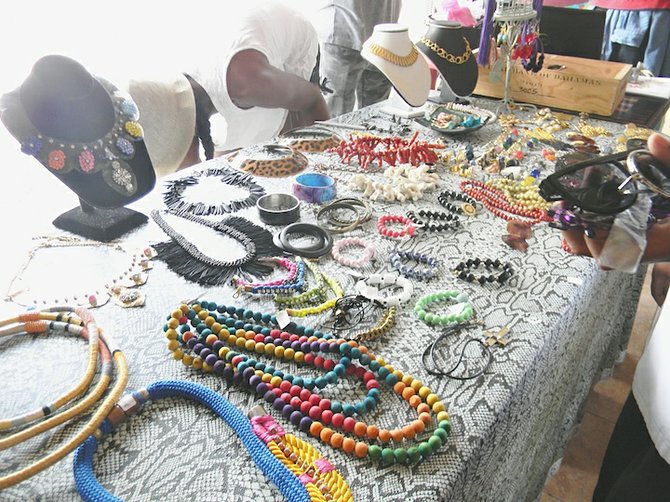 By ALESHA CADET
Tribune Features Reporter
acadet@tribunemedia.net
WHAT STARTED out as a hobby for Bahamian accessory designer Lavonne Ferguson has turned into a dream come true.
She recently travelled to New York Fashion Week to display her "Cute Confections" line. The positive feedback she received in New York motivated her to host her very own pop up shop, last Saturday at the Daily Grind.
Lavonne told Tribune Entertainment she decided to create the Cute Confections brand in 2010. She was constantly inspired by fashion runway trends, and began making pieces for herself.
Since the opening of her line, Lavonne said her brand has evolved further than she had imagined.
"I started an online company called "Shop The CC" that now has a melting pot of designers as well as myself. What I do is I put Cute Confections onto the website, and there you can get jewellery, clothes and different things from different designers," said Lavonne.
Apart from her recent trip to New York for Fashion Week, Lavonne said in August, she was also asked to be apart of Miami Swim Fashion Week.
"I had the honour to style models in i-D Magazine, which is a popular fashion lifestyle magazine. From being shown in Miami, I was then asked to be apart of New York Fashion week with my accessory showcase," said Lavonne.
Lavonne said she made good contacts while in New York. Even though there were other designers, Lavonne said no one had the fun and creative pieces she had.
"I used material like roping, fishing rope, along with the Bahamian vintage currency that I started, which has become very popular. It was done by a designer years ago and she stopped designing them. However, she had a ton of jewellery left, so what I did was I worked along side with her and she gave me a good amount of her jewellery for me to kind of make more current. I took all of those things to New York and the people loved it," said Lavonne.
She said her overall goal for Cute Confections is to continue to make it available to the masses.
"I am just trying to push forward with the jewellery now more so than ever, now that it is being noticed more on a larger scale. Now I am preparing myself for LA because I will also be apart of their fashion week in October," said Lavonne.
To see her accessories on celebrities is something Lavonne said she is hoping to see very soon.
"I want people to request me for styling their celebrities with my accessories. I've actually had the opportunity to style VH1 reality stars Sassy from the Black Ink Crew and Mimi from Love and Hip Hop Atlanta. With things like that, I hope that I grow and I hope that you are able to see Cute Confections make it," said Lavonne.
Although she resides in Florida, where there are many opportunities at her avail, the young designer said she hopes to have her work in as many stores on the island as possible.
"I see that a lot of people are really interested in putting you out there when you are in America but I really want my Bahamian people to be very interested as well. I just actually had an offer for Arcadian Treasures downtown. They are interested in looking at the pieces and putting them in their store. If I can get somewhere like John Bull where they have a little creative section, I think it will do well. I think people are getting into different styles now and we don't ever see different creative funky jewellery in stores like that," said Lavonne.