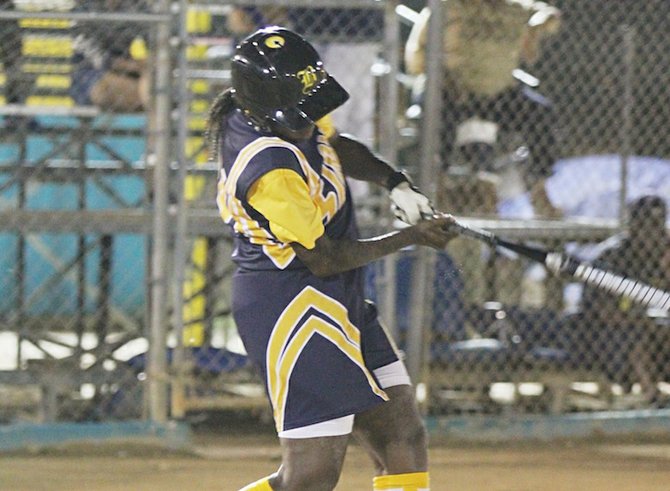 By BRENT STUBBS
Senior Sports Reporter
bstubbs@tribunemedia.net
With the game on the line, the Sigma Brackettes went to three veteran players to get the job done.
Shortstop Zella Symonette came up with a big two-run double in a five-run third inning and she added a two-run single in a six-run seventh inning surrounding a bases clearing double from Ann Bullard in a seven-run fifth and Ernestine Butler-Stubbs came in the fifth inning to replace starter Ashanti Darville.
The trio's performances were good enough to propel the Brackettes to an impressive 18-5 rout Thursday night over the pennant winning Proper Care Pool Lady Sharks at the Baillou Hills Sporting Complex for a 1-0 lead in the New Providence Softball Association ladies' best-of-seven championship series.
The men's feature game was played between the pennant winning Arnette's Sporting Lounge Hitmen and the Andre Gardiner Construction Buccaneers, but the result was not available up to press time.
Sigma's victory, however, came amidst the ejection of manager Mario Ford by plate umpire John Woodside after he came out of the dug-out arguing why his Brackettes' infielders were not allowed to call another time-out in the fourth inning as the Lady Sharks rallied to score three runs to tie the score at 5-5.
"We started out slow and when I started to talk to them in the second inning, we came back and tied the game," Ford said. "We came out too lackadaisical and we were not too aggressive. But later on down, we started to fight and we dug down deep and managed to pull it off."
Ford noted that Darville started to weary in the middle part of the game and so they decided to go to the "big horse" and Butler-Stubbs came and delivered, holding Proper Care Pool to just one hit over three scoreless innings the rest of the way. That, he said, helped to inspire their offensive attack.
As for their offence, Symonette went 2-for-4 with two walks, driving five runs and scoring twice and Bullard was 2-for-6 with three RBI and a run.
On their performances, Ford noted: "That's what big hitters do in big time, so once they can continue to be offensive minded, hit the ball and make the plays, we will be able to deal with this series."
Shervette Taylor did her part as well, going 2-for-5 with a walk, driving in a pair of runs and scoring as many. Ruthann Simms, Kenise Symonette, Shaquel Smith and Latonya Bowleg all scored two runs each. And Butler-Stubbs, who struck out in her first at-bat in the sixth, got a RBI walk in the seventh, moved to second on a wild pitch and would you believe it, scored a run as well.
For the Lady Sharks, they got two runs in the first, sparked by Merissa Burrows' RBI single and they came up with three more in the fourth, thanks to a big fielding error by Shaquel Smith that cleared the bases on a shot by Terika Munroe.
Alex Gabriel went the distance, giving up 11 hits, for the loss.
But even though they dropped the opener, coach Spurgeon Johnson said there's no reason for their Proper Care Pool fans to panic.
"We made one or two defensive errors and the game got away from us," he said.
"In the fourth inning, Alex got a little tired and she was trying a bit too hard to throw strikes. It's just one of those things that happens to a pitcher. She's the only pitcher that we really have and we are relying on her. But we look at this as just one game. We will bounce back from this."
Game two is set for 7pm Saturday followed by the men's encounter between the Hitmen and the Buccaneers.