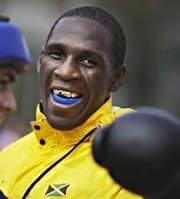 By BRENT STUBBS
Senior Sports Reporter
bstubbs@tribunemedia.net
FOR the past three trips he's been on, Carl Hield has always travelled with a Bahamian partner. This time, he's making the trek alone to compete at the International Boxing Association (AIBA) World Boxing Championships.
Hield, 26, is scheduled to leave town today for Almaty, Kazakhstan, where he is expected to participate in a two-week training camp before the start of the 18th version of the biannual championships October 11-27 where he will be competing out of the 69-kilogram class.
This will be Hield's second international tournament for the year, having just participated in the AIBA Elite Continental Boxing Championships in Santiago, Chile, where he again was the lone Bahamian represented. He travelled along with coach Andre Seymour.
Hield, who won a bronze medal at a tournament in Havana, Cuba, where he was training in preparation for the trip to Kazakhstan, said he has some big plans when he takes on the world.
"I'm looking to being the first Bahamian to win a medal at the World Boxing Championships," he said. "I'm taking it step by step. I'm praying that God will give me the strength to go over there and do what I have to do to be successful. This is something that I really want to do - win a medal."
At the 17th championships in Baku, Azerbaijan, Hield and Valentino Knowles represented the Bahamas. The duo were also in Milan, Italy, for the 16th championships in 2009.
Prior to that, the pair competed at the 15th championships with Taureano 'Reno' Johnson in Chicago, Illinois, in 2007.
Knowles and Johnson have since turned pro, leaving Hield as the most seasoned amateur boxer on the circuit.
This year's championship is going to be quite different, but Hield said he's looking forward to the challenge.
"Everything has changed," he said. "There is no head gear. This is the first time that we will be boxing without the head gears. So we will have to wait and see what happens when we get there."
In his last appearance in Baku, Hield competed out of the 69kg where he got eliminated in the first round on points, 15-10, to Roy Shhehan of Israel. Knowles also made his exit in the first round of the 64kg, losing to Manoj Kumar of Indiana on points, 17-11.
In preparation for this year's tournament, Johnson said he's ready to go.
"I'm prepared. I've been training with the Cubans and the Russians in Cuba getting ready for the tournament," he said. "I just came home this week to get everything sorted out for the trip and I got in some training with Gregory Storr. But I was disappointed that there isn't anything in the national gym to train with, no bags, no nothing."
Instead, Hield said, he went to Jermaine 'Choo Choo' Mackey's gym to train with Storr. "I'm alright. I'm prepared mentally and physically," he said.
"I'm just waiting to see what the draw will be like when it is made up."
However, Storr said that won't happen until they get into the training camp where the AIBA will get a chance to assess all of the boxers.
"Whatever happens, I'm looking forward to winning a medal," he said. "I'm just trying to stay focused on what I have to do and I'm going to stay focused and take every bout one at a time and see what happens."