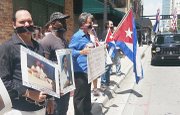 By AVA TURNQUEST
Tribune Staff Reporter
aturnquest@tribunemedia.net
THE Caribbean Community has come out in support of the Bahamas over the long-standing spat between the country and a Miami-based Cuban exile group.
The regional body condemned threats of an economic boycott and steps taken to influence economic interests in Florida, referring to protests by Democracy Movement. 
After more than four months of protest for investigations into alleged human rights abuses at the Carmichael Road Detention Centre, leader Ramon Sanchez last week said demonstrations have been suspended after the government has announced plans to launch a probe.
In leaked Defence Force documents, a young marine admitted that on the direction of superiors, he punched, kicked and beat unresisting Cuban detainees with a stick until they screamed, in what is described in official investigation documents as a "frenzied" attack at the Carmichael Road Detention Centre.
A statement endorsed by the Fifth Special Meeting of the Council for Foreign and Community Relations (COFCOR), read: "The Caribbean Community (CARICOM) deplores the threatened economic boycott of The Bahamas and attacks on Bahamian economic interests in Florida by certain interest groups based in Miami." 
"CARICOM supports the legitimate efforts of the Government of The Bahamas, in conformity with international law, to ensure that its borders are not breached by unlawful immigration."
Foreign Affairs Minister Fred Mitchell has maintained that there has been no fallout for the Bahamas' reputation due to the controversy. Also supported by National Security Minister Bernard Nottage, Mr Mitchell reiterated that the matter had been largely confined to Dade County and Broward County in Miami.
However, Tourism Minister Obie Wilchcombe said that the ramifications of the ongoing protests over Cuban abuse allegations are "far-reaching". Also unconvinced that a loss of confidence in the Bahamas' commitment to human rights is limited to activists in South Florida, St Anne's MP Hubert Chipman called for a "new turning point" in the conduct of the Bahamas' foreign policy.