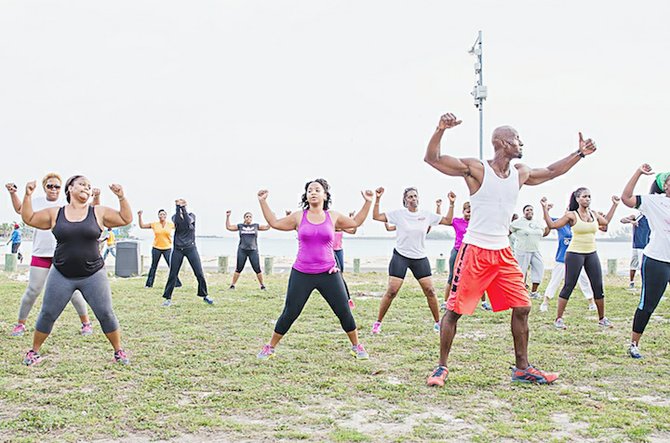 By ALESHA CADET
Tribune Features Reporter
acadet@tribunemedia.net
WITH the goal of building healthy physiques and turning the Bahamas into a healthier nation, the trainers at Caribbean Sweat Fitness are on a mission to get the country "moving". And they are doing it with the help of Junkanoo.
The proprietor of Caribbean Sweat Fitness, Macumbla "Comby" Smith, said the Caribbean Sweat grew out of his deep love for the uniquely Bahamian cultural expression.
His fitness routines, he told Tribune Health, are infused with the pulsating beats of both Junkanoo and calypso.
Comby has performed as a lead dancer for several major Junkanoo groups. He said the idea of incorporating his dance skills, his love for Junkanoo and Caribbean culture was a natural progression. He is currently a lead dancer for the Colours Junkanoo group and can also be seen on his Kids Fitness Programme, which airs every Saturday at 10am on ZNS.
"Ten years ago, when Caribbean Sweat first came on the scene, the idea of incorporating Junkanoo into an exercise programme was unheard of," said Caliope Sandiford of Caribbean Sweat Fitness.
"In the Bahamas today, even though a few others have joined the movement, the high-flying energy generated by Comby and the almost instantaneous rapport he builds with the participants, is simply unmatched. The classes are addictive and exciting, both to watch and to be a part of."
This past weekend, Caribbean Sweat held their first outdoor fitness event at Arawak Cay entitled "The Rush Workout".
Members of the group deemed the event a great success.
"As it was a first time event, the initial turnout was an unknown factor. We set our baseline target at a standard class size of 30 to 40 persons, which we achieved with some 50 plus persons attending. The event generated a huge buzz on Facebook, beyond our expectations," said Ms Sandiford.
"We were constrained by a tight marketing budget, but based on past experience in other arenas, as the word spreads the numbers will increase. The reviews so far are gratifying."
To keep the Bahamas on an energetic upbeat fitness level is no easy task, said Ms Sandiford.
The major enemy to the health and wellness of the average Bahamian, she said, is the sedentary lifestyle which so many practice.
"The world is moving faster and asking more of us each day. Under these increasing external pressures it is easy to just do the things you have to. However, what each Bahamian is also aware of is if you want a Bahamian to get up early, to park their car a mile away and walk, to get up and move, all you need to do is throw in some base drum, some brass, some cool dance moves and 'Who in de mornin', we going downtown'," said Ms Sandiford.
This formula, she said, has been working successfully. She said Comby has worked at every major gym in New Providence, and with each experience, noticed a common trend: the classes were packed to capacity, offering standing room only.
"His dream is to take this energy and unveil it to an international audience, promoting Caribbean dance, culture, highlighting Junkanoo and ultimately promoting the Bahamas. Just last week, we posted a short video clip from one of the workout routines on our Facebook page, Caribbean Sweat Fitness, and within two days we had 20,000 viewers; within four days, 32,000, with viewers as near as our Trinidadian neighbours and as far as Australia, Germany and South Korea. The interest is there and Caribbean Sweat is tapping into it," said Ms Sandiford.
Caribbean Sweat offers group workout sessions in Junkanoo, soca and salsa. While they do not currently have a fixed office location, Ms Sandiford said the members subscribe to an "open office" fitness model.
"If an organisation has a fitness programme and wants to incorporate a group workout session, we'll be there. Need a personal trainer, drop us a line and we'll be there. Drop us a line at caribsweat@gmail.com and check our Facebook page for news of workout locations and additional contact information," said Ms Sandiford.