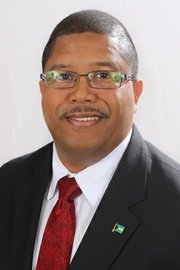 By KHRISNA VIRGIL
Tribune Staff Reporter
kvirgil@tribunemedia.net
FNM MP Peter Turnquest has called into question the viability of Urban Renewal 2.0 in the absence of a comprehensive overview of the programme for the last two years.
The initiative, the brainchild of the Progressive Liberal Party, received $10 million in the 2013/2014 budget for minor home repairs in inner city communities and other activities.
While speaking to Members of Parliament yesterday, the East Grand Bahama representative noted that Urban Renewal has been receiving notable donations from corporate Bahamas.
Just last month, the Albany development donated $1 million to the Urban Renewal Foundation. More recently, on Monday, the Grand Bahama Power Company (GBPC) funded Urban Renewal's breakfast programme for disadvantaged children.
Mr Turnquest said: "Under the former administration, each year a comprehensive report was prepared for Urban Renewal activities. As such an objective assessment was made of the work to be done of the various units.
"I don't know that one has been done since May 2012, but certainly none has been tabled. I contend again Mr Speaker that social work interventions should be left to professionals in the Department of Social Services.
"$10 million a year has been given to this Urban Renewal programme and we have no objective markers as to what has taken place and the success of the programme other than anecdotal comments. We need more than a hodgepodge of agencies acting with no clear and measurable objective.
"I note the significant donations to Urban Renewal 2.0 and I must admit I am a bit concerned about the implications of these sizeable donations. Donations that may have gone to deserving NGOs and from those who may have been reluctant to make these kind of donations in the past. We all know that NGOs are certainly a lot more efficient at utilising these funds and certainly more fair in the distribution."
Pointing to the recent scourge of crime in Grand Bahama, Mr Turnquest said residents on the island were very concerned despite police Commissioner Ellison Greenslade's declaration that he was not at all worried about the situation.
"We must get a grip on this situation quickly because we do not want the kind of retaliatory occurrences that seem to be happening here in Nassau. Grand Bahama is too small. We don't have any room for this  kind of activity and so it is my hope that we will be able to arrest this situation very quickly.
"The Commissioner has indicated that he is not concerned about this occurrence in Grand Bahama. I normally agree with him on most things, but I just want to say to him that we in Grand Bahama are concerned. So again we want to ensure that it gets all of the attention that is necessary.
"These incidents speak to the lack of effectiveness in my mind of the Urban Renewal 2.0 programme in assisting the crime reduction as touted by the government," Mr Turnquest said.