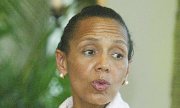 By AVA TURNQUEST
Tribune Staff Reporter
aturnquest@tribunemedia.net
WEB shop gaming regulations will come under international scrutiny once enacted as the Bahamas readies itself for another round of regional assessments on its financial services sector.
The Fourth Round of Mutual Evaluations will focus on the effectiveness of laws and regulations for member states of the Caribbean Financial Action Task Force (CFATF), which the Bahamas leads under the chairmanship of Attorney General Allyson Maynard-Gibson.
Yesterday, Mrs Maynard-Gibson declined to comment on the impact the unregulated gaming industry posed to the Bahamas' upcoming compliance ranking. However, she reiterated that lawmakers intended to implement the strongest frameworks for anti-money laundering and counter financing in terrorism "no matter what".
However, Financial Action Task Force president Vladimir Nechaev explained that an unregulated economy was definitely a "minus" for countries.
Mr Nechaev said that while it will be difficult to regulate such an industry, it was necessary to maintain compliance to the agency's recommendations.
"There are certain things that are not involved in anti-money laundering, but if we say that this should be somehow regulated or supervised then it should be done. If you haven't done that then you have already a deficiency even before the commission comes to you."   "The country," said Mr Nechaev, "should have a process to try to regulate the new methods of technology and this is something that is web casinos, web methods of even internet payments, and everything it should be somehow regulated.  
 "We will have to wait because this is not unique (for the Bahamas). This is going on world wide. We will have to see how this is being treated in the first evaluations because it is something that the process it might be okay for technical compliance, but the process for effectiveness we are not yet sure how it will be treated, only the practice will show."
CFATF hosted the first annual conference on Regional Anti-Money Laundering and Combating the Financing of Terrorism this week at the British Colonial Hilton.
"This is such an important honour for The Bahamas that I would really like to see the focus remain on what it means to see the Bahamas as a leader of the financial services in the region. It is really important, very, very important," Mrs Maynard-Gibson said. 
"What I will say to you is that The Bahamas takes its role in financial services and financial services as a tool for development of our country very seriously. And you will see, and the prime minister has already said it, we will put in place the strongest framework for anti-money laundering and counter financing in terrorism framework no matter what. That's the story.  
"And that is very important for the country, it really is," she said.