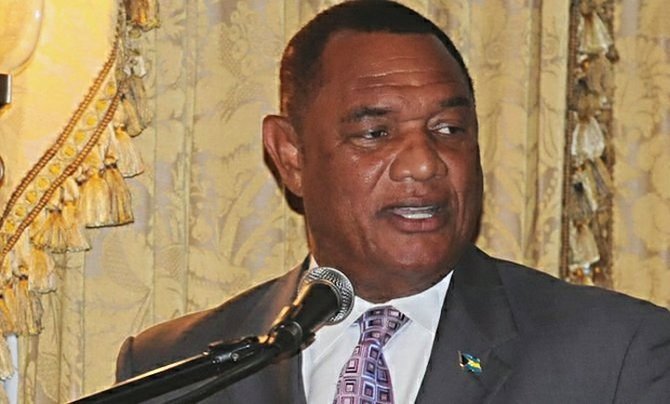 By KHRISNA VIRGIL
Tribune Staff Reporter
kvirgil@tribunemedia.net
PRIME Minister Perry Christie remained defiant as he faced public criticism for his attempt to help Mr Ishmael Lightbourne, government's VAT co-ordinator, with his financial problems.
Mr Christie said he will "not apologise" for his attempt to help Bahamians who were hurting. He was criticised for calling the bank to find out what he could do "as prime minister" to help Mr Lightbourne save his West Bay Street home.
 Mr Christie told reporters yesterday that no one will ever stop him from doing what he has done for the last 40 years of his political career. That is, Mr Christie explained, intervening with bank managers and leaders on behalf of young professionals. 
He said that during that time, he has had to speak with executives as far away as those headquartered in Toronto, Canada, for Bahamians needing assistance.
Mr Christie said he has not been in touch with the managing director of First Caribbean Bank since his first call last month to find out how he could help Mr Lightbourne with his financial difficulties.
Mr Lightbourne was seen with boxes, leaving his western New Providence residence on Wednesday after the bank had the locks on the doors changed. In addition to his banking problems he has failed to pay his real property taxes for the last decade.
"Forever, for the rest of my life," Mr Christie said, "I will never compromise on my efforts to help people.
"Nobody will ever get me to apologise for it and nobody will ever get me to deviate from being able to help people. I never do it in a coercive manner. I do it on the basis of the outcome being in the best interest of the Commonwealth of the Bahamas and any institution I am dealing with.
"I have for 40 years been making interventions with bank managers and leaders. Some of whom are headquartered in Toronto. We have a wonderful relationship. It has never been adversarial or coercive.
"Mr Lightbourne and I have no social relationship, none. I have not spoken to Mr Lightbourne since I made the intervention. He is somebody who I have learned to respect as a Christian person in this country, an educated person who has made a big mistake in his life. All of us do."
When he spoke in Parliament last month, Mr Christie said his only regret when it came to Mr Lightbourne was that he "significantly" underpaid him compared to foreign consultants.
It has been said that Mr Lightbourne has made arrangements with the tax office to settle his liabilities within a reasonable time.