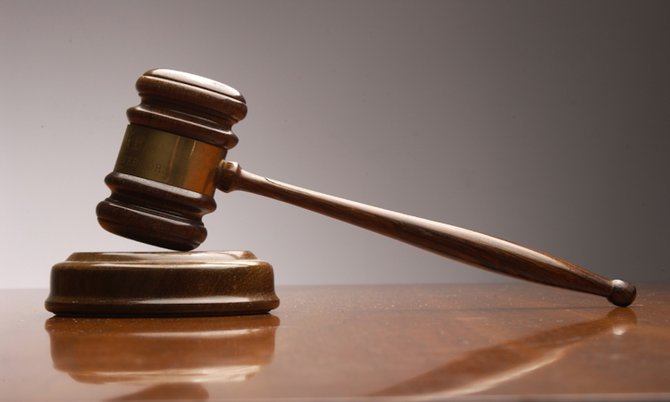 By LAMECH JOHNSON
Tribune Staff Reporter
ljohnson@tribunemedia.net
A MAGISTRATE ordered a bus driver to be put on suicide watch at Her Majesty's Prison after he was charged with importation of firearms and multiple related offences.
Travis Ferguson, 28, of Golden Gates No. 2, appeared before Magistrate Guilimina Archer yesterday facing 10 charges related to the discovery of a box containing a black Ruger Pistol, a Romanian AK-47 rifle and an assortment of ammunition for both weapons on March 28 at Arawak Cay dock.
However, his lawyer Krysta Mason-Smith requested that he be put under suicide watch based on concerns brought to her attention by a friend of the accused.
Ferguson pleaded not guilty to all of the charges he faced – two counts of possession of an unlicensed firearm, possession of unlicensed firearms with intent to supply, possession of ammunition with intent to supply, two counts of possession of ammunition, two counts of importation of ammunition and two counts of importation of firearms.
On the day in question, shortly after 12:30pm, Police and Customs officials acted on a tip that led them to discover the two high-powered assault weapons along with over 100 rounds of ammunition at the Arawak Cay Port.
In court yesterday, police prosecutor ASP Ercell Dorsett asked the court to stand the matter down so that he could review the file and research Ferguson's history before addressing the court on the question of bail.
"Bail?" the magistrate asked.
"This is a matter that's bailable," lawyer Mason-Smith said, objecting to the prosecution's request to have the matter stood down.
"He's been in police custody for over two days. He has no previous convictions and no pending matters before the court," she said.
"This court will not be entertaining any application for bail at this time," Magistrate Archer told both counsel.
"The court that will be seized with this matter will deal with that accordingly," she added.
ASP Dorsett noted that April 10 was a convenient date for court no.8 to address the matter.
However, Ms Mason-Smith asked if it could not happen sooner than that because it would only take a day and a phone call to request the information he sought.
"This is a man with no previous convictions or pending matters who is now going to be exposed to Her Majesty's Prisons," she added.
ASP Dorsett maintained that April 10 was the most convenient day for court no. 8 to hear the matter.
Before the adjournment, Ferguson's lawyer also raised concern for her client's well-being based on information brought to her attention by a friend of the accused.
"Place him under suicide watch," the lawyer asked.
"I spoke to him and he's indicated to me that he's okay, but I still would like for him to be watched if this matter of bail is to be stood over until then," she added, explaining that her concern and request was "out of an abundance of caution."
The court acknowledged the request and made the order before remanding Ferguson to prison.