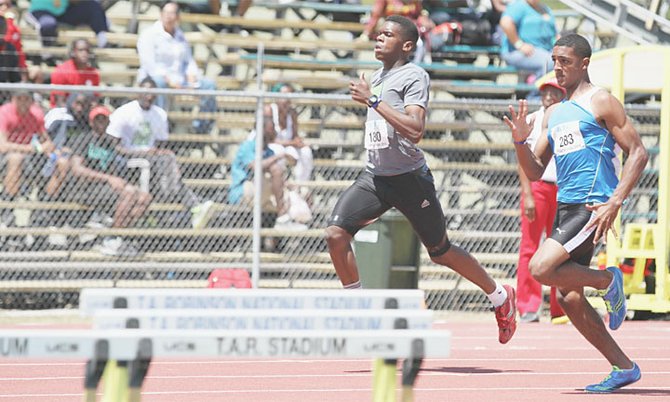 By BRENT STUBBS
Senior Sports Reporter
bstubbs@tribunemedia.net
Following the completion of their final trials over the weekend at the Thomas A Robinson Track and Field Stadium, the Bahamas Association of Athletic Associations has selected an 81-member team for the CARIFTA Games over the Easter holiday weekend in Martinique.
The team, coached by Rudolph Ferguson, assisted by Corrington Maycock, will comprise of 19 under-18 girls, 23 under-20 boys, 19 under-20 girls and 20 under-20 boys.
The team is the largest ever selected for the top regional junior event, but that's because the organisers have increased the quota after they changed the age groups from under-17 and under-20 to under-18 and under-20 to comply with the governing body IAAF requirements for their meets.
Last year when the games were held at the new Thomas A Robinson National Stadium - the seventh time here 1976, 1978, 1981, 1984, 1992 and 2002 - the Bahamas ended up tied with Trinidad & Tobago with eight gold medals, but had a total of 31, including 10 silver and 13 bronze for second place overall.
Jamaica once again dominated, collecting 29 gold, 25 silver and 15 bronze for their grand total of 69. Trinidad & Tobago ended up tied with Barbados for third place with 20 medals.
Quartermiler Shaunae Miller emerged as the Austin Sealy winner of the most outstanding award after she posted a gold in the under-20 girls 200 and 400m as the Bahamas completed a sweep of the sprint events. And Miller teamed up for the gold on the 4 x 100m relay team.
Medallists from last year returning this year are under-20 boys - LaQuan Nairn, the gold and silver medallist in the long and high jump respectively, Charles Sealy, bronze medallist in the heptathlon and Janeko Cartwright as a member of the bronze 4 x 400 metre relay team.
In the under-20 girls' division, Devynne Charlton, the 100m champion and 200m hurdles bronze medallist, who teamed up with Keianna Albury for the gold in the 4 x 200m relay and Juanae Lewis, a member of the bronze 4 x 400m relay team.
In the under-17 boys' division are Keanu Pennerman (silver in the 200m); Kinard Rolle (silver in 200m; Benjamin Najman (bronze in 1,500m); Mikhail Bethell (bronze in 400m hurdles) and Ken Mullings (silver in high jump). Pennerman ran on the bronze 4 x 100m relay team and all four members of the victorious 4 x 400m relay team - Henri Deluze, Tyler Bowe, Kinard Rolle and Miokhail Bethell - are all back to defend their title.
And in the under-18 girls' division, Jenae Ambrose won silver in 100m; Donneisha Anderson bronze in 800m and Andira Ferguson silver in long jump. Ambrose, Anderson and Blayre Catalyn were all on the 4 x 100m relay team that got the bronze and Shaquania Dorsett, Anderson and Dreshanae Rolle ran on the 4 x 400m team that finished with the bronze as well.
Among the athletes making their debut this year is Steven Gardiner, who has had an exceptional performance in the under-20 boys 200m. The jumpers and the throwers have also been performing very well this year, which should provide the team with a lot more versatility.
Here's a look at the team selected for this year's games:
Under-18 Girls



Brianne Bethel, Jenae Ambrose, Shaquania Dorsett, Donneisha Anderson, Amber Ford, Shante Russell, Charisma Taylor, Sasha Wells, Dreshanae Rolle, Ieisha Taylor, Celine Thompson, Daejha Moss, Andira Ferguson, Taj Dorsett, Brashe Wood, Chase Carter, Blayre Catalyn, Tiffany Hanna and Serena Brown.
Under-18 Boys

Javan Martin, Tyler Bowe, Henri Delauze, Samson Colebrook, Justin Pinder, Benjamin Najman, Ronald Kemp, Tavonte Mott, Aaron Ross, Mikhail Bethell, Julian Brown, Livingston Bromwell, Ken Mullings, Holland Martin, Marcel Wilkinson, Tamar Green, Perry Adderley, Adrian Grant, Malik Stuart, Travis Ferguson, Dondre Rutherford, Keanu Pennerman and Kinard Rolle.
Under-20 Girls



Keianna Albury, Makeya White, Talia Thompson, Juannae Lewis, Nicole Callis, Jennaya Hield, Lunise Gibson, Devynne Charlton, Mesha Newbold, Vinisa Beneby, Miquel Roach, Dannielle Gibson, Taryn Rolle, Brendia Ferguson, Walliscia McKinney, Britini Fountain, Loushanya Neymour, Marissa White and Sheyira Ferguson.
Under-20 Boys

Deedro Clarke, Cliff Resais, Steven Gardiner, Ian Kerr, Janeko Cartwright, Kelson Pierre, Jr., Ashley Riley, Claudius Russell, Derricko Hinsey, Xavier Coakley, D'Mitry Charlton, Ellison Greenslade, Laquan Nairn, Ashton Butler, Drexel Maycock, Khyle Higgs, Denzel Pratt, Theotis Johnson, Kendrick Thompson and Kaiwan Culmer.
The BAAA is scheduled to hold a meeting with the athletes and parents 6pm today at the TAR Stadium to provide all the necessary requirements for the athletes to be able to make the trip to Martinique.