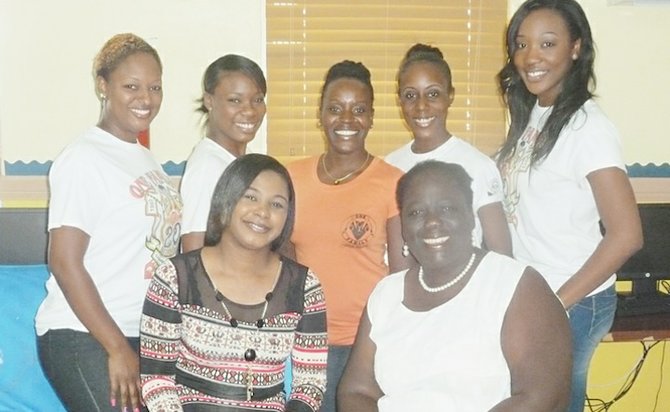 By JEFFARAH GIBSON
Tribune Features Writer
jgibson@tribunemedia.net
IN KEEPING with it's mandate to improve the welfare of Bahamian children, the JUGS (Justice Unity Generosity and Service) women's organisation recently held a seminar to inspire the young residents of the Elizabeth Estates Children's Home.
During the seminar, children were encouraged to dream big and face any fears they may have concerning their future, said Sadira Levarity, president of the Bahamas JUGS chapter.
"The recent seminar was hosted as one of our initiatives to stimulate and inspire the young residents of the Elizabeth Estates Children's Home; they were able to express how they felt about life and their future," she told Tribune Woman. 
"JUGS sisters and the other invited speakers challenged their minds and showed them that they are in control of their own future, regardless of what they have encountered."
The speakers were able to give real life examples and words of wisdom for the kids to relate and to help them understand their purpose, Ms Levarity said.
Also, because all of the speakers gave interactive presentations, allowing the children to share in and be involved in the process, it helped foster connections between the guests and the residents, she said.
Presenters during the seminar included Dr Zelrona Mackey, Charmaine Williams, Greg Smith, and Corey Rolle, known popularly as gospel musician DJ Counsellor.
"Zelrona Mackey, a doctor of cosmetology, discussed gang violence in the schools. She gave them some points on how to stay positive and focused on their life. She also asked them to share their future plans and how it can be developed making them successful. Charmaine Williams, a master motivator, expanded further on some of the reasons why some young persons fail in life," she said.
Ms Levarity said Greg Smith of Jones Communications Network used his personal life experiences to encourage the children. She said Mr Smith told the children that at one point he had no idea how to achieve his goals, but because of his good grades and self-confidence he was given a scholarship.
"DJ Counsellor was our final presenter and he asked the children their thoughts on their last report card in school. Some of them were not pleased; they realised that no one else is responsible for their performance only them. He reminded them of their attitude, to open their minds by reading and stay up-to-date with current events," Ms Levarity said.
At the end of the seminar, the presenters were given a certificate of appreciation. The JUGS organisation also presented the home with a donation.
"The significance of hosting seminars is for us as civic-minded women to encourage, educate, empower and assist with coping with the difficulty of life, making wise decisions, while preparing our children to be productive citizens in our country. Therefore, transforming communities that will expand to a better country," she said.
"We have been hosting fundraisers for donations and organising other seminars and community events. Our goals are to assist with the education, social plights and motivate our youth as we work together to transform our communities and by extension our country and world. We do have upcoming events such as a career motivational seminar for secondary children of various children's homes; Community Day and a tea party to name a few."
"JUGS International Incorporated takes this opportunity to thank our speakers, Dr Zelrona Mackey, Charmaine Williams, Greg Smith and DJ Counsellor, the One Family choreographed dancers, residents and staff of the Elizabeth Estates Home and our sponsors for this event, Bapak Ltd and Domino's Pizza," she said.
The JUGS organisation was formed in the Bahamas to expand the objectives and service of the international organisation. Members of JUGS are women who share their time and talents in civic, educational and social activities.
When JUGS was first started in 1991, founder of the local branch, Ethel Dorestant, believed the Bahamas, and most importantly the young people, can benefit from the work the organisation does. Today, JUGS continues with its mission to help Bahamians youth attain educational opportunities to help them pursue their future goals.
The group meets every third Saturday of each month. The group also hosts social outreach activities from September to July. 
The members attend biannual conventions, as each chapter hosts the event in order to share they efforts throughout the year.  
The JUGS organisation was founded in 1953 in Memphis, Tennessee, and has various chapters in the United States.