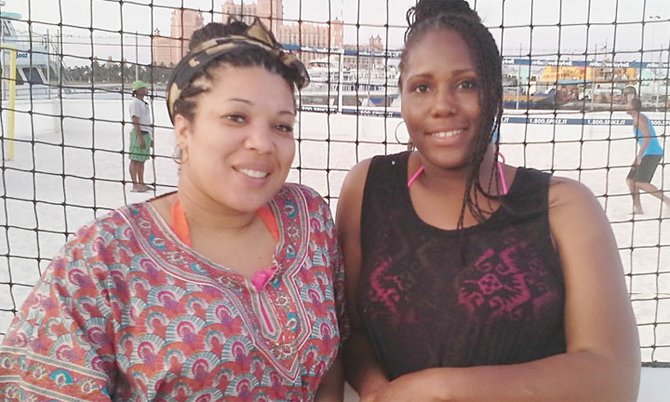 By BRENT STUBBS
Senior Sports Reporter
bstubbs@tribunemedia.net
MICHELLE De Los Rios has been so impressed with the level of talent she has seen here that she would love to include at least one Bahamian on her Lions women's volleyball roster for Florida Memorial University.
In town over the weekend for a volleyball clinic, De Los Rios brought along head coach Markia Brown-Seetal, whom she served under in her previous trips as an assistant at Monsignor Edward Pace High School in Miami, Florida.
The two were excited about the local players who showed up to participate on Friday at the DW Davis Gymnasium. "The visit, as usual, was great," De Los Rios said. "We had a very productive time. I wanted to see what the local talent looks like. We had a very good turnout. It was much better than what I had anticipated.
"It was good to see such a large volleyball community here and the talent that is available. We saw some prospects that we would like to take back to the United States right now. We saw a lot of them with the basic skills who are very athletic. They just have to continue to refine them."
Having just completed her first year in her new role as head coach with the Lions at FMU, De Los Rios said she would like to include some players as she moves forward.
"I'm just getting my feet wet in the programme there," she said. "You can ask me next year this time how we are doing, but I'm looking forward to working in the programme and hopefully coming back and getting some Bahamians to join us."
De Los Rios said once she gets established at FMU, she would like to use the Bahamas as one of her feeder systems in acquiring athletes, not just for the Lions women's volleyball team, but she will be spreading the word to the coaches in the other disciplines.
Although she has heard about the talent from De Los Rios over the years, Brown-Seetal said her commitments as head coach at Edward Pace High just didn't permit her to travel to the Bahamas for a clinic until now.
"These young girls, and I wrote about them in my blog, have a lot of promise," Brown-Seetal said. "Even though we saw a lot of girls ages 17, 18 and 19 who are really good, they could still use a little more refining.
"That would only come with them being able to utilise the facilities more here like the indoor facilities. Without the equipment, it will be hard for them to get to the level that they need to be at where the college coaches like Michelle can come in and take them right away."
As her school is a Catholic one in Miami, Brown-Seetal said it will be more difficult to get Bahamian players enrolled as they would have done in other sports en route to getting into college. She said it would be much easier for them to get into the public school system.
In any event, Brown-Seetal said she would like to return to assist the players who are around 13, 14 and 15 with their games and hopefully steer them in the right direction to getting into colleges and universities like FMU.
While she frequents Trinidad & Tobago, Brown-Seetal said this was her first time spending time on the land because she has been here in the past on a cruise where they have basically been in and out of port.
"I love the atmosphere here. It's very laid back and relaxing," she said. "It's unlike the US. I plan to come back next summer and see what progress some of the girls have made and hopefully we will be in a better position to get some of them off to school."
De Los Rios, who along with Brown-Seetal took in the Scotiabank Defenders Beach Volleyball Tournament on Saturday, said what she would like to see in the future is more playing facilities, both indoor and beach volleyball, where the local players can enhance their skills because there's a lot of raw talent here.
The duo are close friends with Audral Farquharson and Mueller Petit, whom they both met through playing volleyball in Miami.