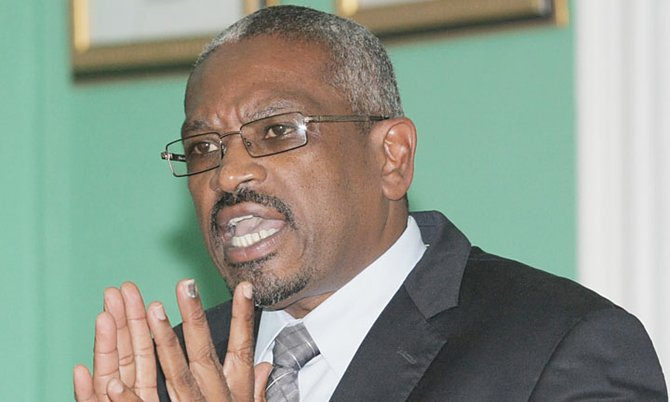 By SANCHESKA BROWN
Tribune Staff Reporter
sbrown@tribunemedia.net
FNM LEADER Dr Hubert Minnis said yesterday the Bahamas Telecommunications Company cannot outsource Bahamian jobs overseas without the current government's permission.
Therefore if the company were planning to lay off hundreds of Bahamian jobs, the government not only knows about it, but approved it.
Speaking with The Tribune, Dr Minnis said as long as the government owns more than 50 per cent of the company, CWC cannot lay off anyone without the government allowing it.
"The PLP is in the business of exporting jobs and the FNM is in the business of giving jobs to Bahamians. With respect to BTC, included in the business plan is a clause that says as long as we own over 50 per cent we can veto anything they try to do," he said.
"Which means the government has the power to protect Bahamian jobs if they want. They cannot do anything without the government. That was added there by the FNM to show how much we care about the Bahamian people. If the government allows this to happen it will prove that they do not care about the Bahamian people."
Under the 2011 privatisation agreement, "the day-to-day administration, operation and management of BTC shall be substantially conducted from premises in the Bahamas".
Also the shareholder's agreement between the government and CWC requires the government to approve "any material change to the nature of scope of BTC's business."
Dr Minnis also denied claims by government negotiator Franklyn Wilson that if BTC were to outsource jobs, it would be the result of conditions the Ingraham administration agreed to in the 2011 sale.
BTC board member and PLP Chairman Bradley Roberts also claimed that in a presentation before the FNM Cabinet in 2011 "the entire FNM crew agreed that CWC could decimate BTC after the first year of privatisation and outsource all its main functions to CWC operations abroad".
Earlier this week, FNM deputy leader Loretta Bulter-Turner had questioned whether mass lay-offs of scores of BTC employees was imminent as the company reportedly prepares to outsource its call centres to Panama.
However, yesterday BTC's board issued a press statement denying there were any such plans to restructure their business.
"This message," the statement read, "has been shared with our union partners. Moreover, the Board is committed to increasing our level of investment across the Bahamas to improve network reliability and customer service.
"Finally the Board wishes to make it clear that this sort of unfounded speculation is most unwelcome, undermining, as it does, the confidence of the hard-working BTC employees who support our customers every day. We call for an end to these irresponsible accusations," the statement said.