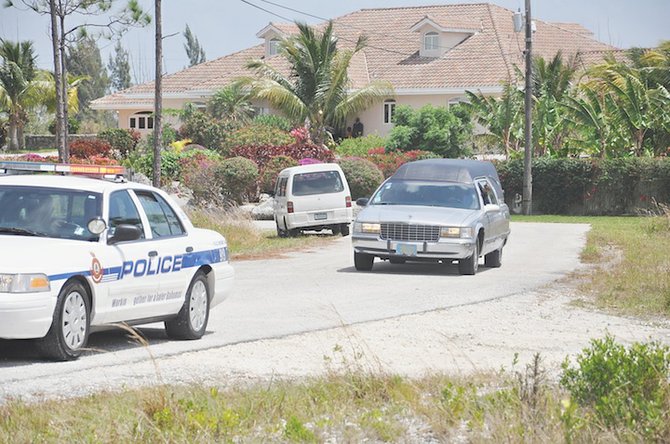 By DENISE MAYCOCK
Tribune Freeport Reporter
dmaycock@tribunemedia.net
FREEPORT – The man gunned down during a home invasion and robbery in Grand Bahama is British citizen Edgar George Dart, 56,of Manitoba, Canada. 
Mr Dart, originally from Devon, England, is a farmer from the Rural Municipality of Taché, which is located in Manitoba, according to reports in the Winnipeg Free Press. He emigrated to Canada 16 years ago.
He and his teenage son, George, and other close relatives, including his brother from England, were visiting their mother in Grand Bahama when three masked intruders broke into her residence in Emerald Bay sometime around 7am on Tuesday.
They threatened George, 13, and the five other family members. It is understood that Mr Dart tried to reason with them.
The family was tied up and robbed of jewellery and other personal belongings. Mr Dart was fatally shot during a struggle with the gunman.
Philip Poole, Mr Dart's brother-in-law, told the Daily Mail that his son Pip, 29, was also attacked and wounded with a machete.
According to the Daily Mail report, Mr Poole described his brother-in-law, Edgar, as "a tough guy." He said that "as soon as the men burst into the house he remonstrated with them. One of the raiders shot him in the chest."
Mr Poole told the Daily Mail that he was told that "they were forced to look on helplessly as Edgar lay on the floor bleeding to death in front of them.
"It took him around an hour to die," said Mr Poole, "and there was just nothing they could do for him."
The Daily Mail reported that Mr Dart's brother, 55, his wife Alison and
their 15-year-old son, Luke also witnessed the murder.
His sister Virginia Redfern, 57, who owns a hotel in Exminster, Devon, plans to fly to Grand Bahama to join the family.
However, in Freeport police have not yet officially confirmed Mr Dart's identity. They are awaiting the results of an autopsy, which was scheduled to take place on Wednesday.
Asst Commissioner of Police for Grand Bahama Emrick Seymour could not be reached up to press time for an update.
The Tribune understands that the family members are staying in rental accommodations, while police continue their investigations at the residence on Dunton Lane. 
The late Colin Dart, a wealthy British resident and inventor, and his wife, Joy, lived at the large home, located on the Grand Lucayan Waterway.
According to the Winnipeg Free Press, the father had died in December and Edgar had gone to Freeport to help look after some family business.
The WFP reported that Dart operated a feed business, about 14 kilometres south of Anola.
Police have made no arrests. Investigations are continuing into the island's sixth homicide for 2014.
This incident involving a visitor to the island is probably very worrisome for tourism officials as they try to lure Canadian visitors back to the destination, which has been struggling as a result of low visitor arrivals.
Over the past few months, the Sunwing Group and the newly opened Memories Resort have been promoting the island in Canada. Sunwing has started operating six new flights out of Canada.
Tourism officials, however, could not be reached for comments.
Member of Parliament for East Grand Bahama Peter Turnquest, the representative for the area where the incident occurred, expressed his condolences to the family for their loss.
"We certainly regret this tragic event and we want them to know that our thoughts and prayers are with them," he said.
"I am confident in the RBPF and the leadership that they are giving this their full attention and they will…bring those responsible to justice in a timely manner."
Mr Turnquest said the incident is one that involves visitors to the island at a time when the tourism sector is trying to recover.   
"This is obviously bad news that we don't need in respect to Grand Bahama as we try to rebound in the tourism sector.
"These individuals appear to be second home owners, which is a market we are tying to attract.
"News travels fast and bad news travels even faster, and no one wants to go to a destination where they may feel unsafe."
Mr Turnquest is urging residents to be vigilant and aware of their surroundings.
"I want to say to citizens, I know there are difficult times out there and certainly a great deal of need, but let's try to ensure that we remain civil toward one another, and remain within the bounds of the law, and protect the industry that we have, and hopefully grow it," he said.