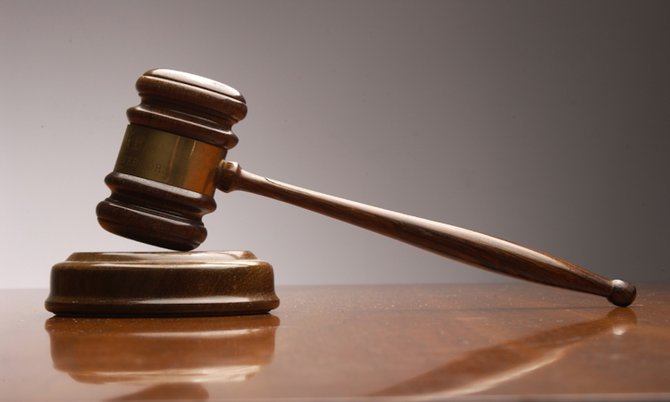 By LAMECH JOHNSON
Tribune Staff Reporter
ljohnson@tribunemedia.net
CHIEF Magistrate Joyanne Ferguson-Pratt stood down her decision on bail yesterday for two men accused of possessing a number of unlicensed firearms and assorted ammunition that were found in furniture and appliances.
The gun court magistrate said she wanted to give 37-year-old Shamar Ellis an opportunity to speak with his lawyer, Jomo Campbell, who was then before the Supreme Court.
The lawyer for Ellis' co-accused, 28-year-old Leonard Saunders, submitted that his client should get bail, notwithstanding the number of offences.
Lawyer Dorsey McPhee further submitted that there was no evidence to tie his client to the charges brought against him.
However, the magistrate informed the lawyer that the latter submission was not being dealt with at this stage of the case.
Ellis, of Campbell Street, and Saunders, of Churchill Subdivision, faced 17 criminal charges when they stood before the court no 9 magistrate yesterday afternoon concerning a firearms seizure at a home in Exuma on April 8.
It is claimed that they committed possession of unlicensed firearm (four counts), possession of ammunition (five counts), possession of ammunition with intent to supply (five counts), possession of firearms with intent to supply, conspiracy to import firearms and conspiracy to import ammunition.
Both men pleaded not guilty to the 17 charges.
The magistrate said she would make a decision regarding bail on this afternoon, which should have given Ellis an opportunity to have his counsel present or have another lawyer stand in place of Mr Campbell.
Before the matter was adjourned, Mr McPhee requested that the witnesses' statements and other documents in police's hands be given to his client so that they could prepare for their defence.
The lawyer cited the constitution to support his argument.
Chief Magistrate Ferguson-Pratt noted that the request was premature and unusual, adding that a trial date had not been set and that there was usually a date set for the prosecution to make full disclosure of its case against an accused man.
The police prosecutor, in response, submitted that accused persons were only entitled to the indictment sheet and summation of the case in summary matters.
However, the magistrate disagreed and said the law would support her position that the defence must have full disclosure.
"There can never be trial by ambush," she added.