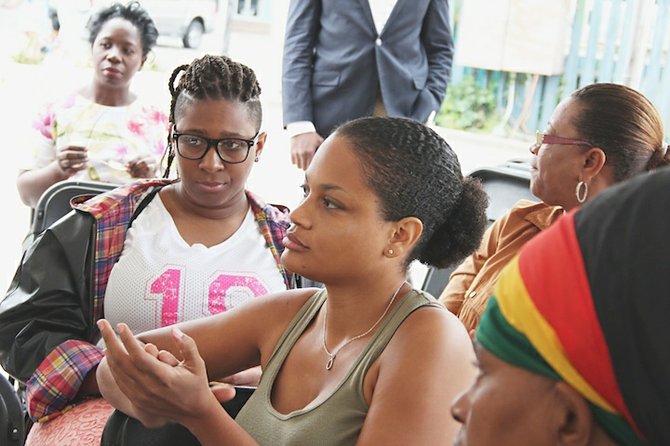 By JEFFARAH GIBSON
Tribune Features Writer
WITH women and children becoming the victims of abuse on a daily basis in the Bahamas, one local group set out to highlight the serious issue with a very public initiative.
To teach people about the different forms abuse can take, the Coalition to End Gender-based Violence hosted the "Protect Women and Children" activism and awareness event in Rawson Square last week.
During the event, people learned about the harmful effects of abuse, heard stories of hope and healing, and were given the opportunity to speak out freely about important related issues.
The speakers for the event included Stephen B Aranha, assistant professor and chair of the School of Social Sciences at the College of the Bahamas; Alicia Wallace, director of Hollaback! Bahamas; Beaumont Todd, author and radio personality; Donna Nicolls, founder of Bahamas Women's Watch, and Khandi Gibson, founder of Families of All Murder Victims Bahamas.
Ending violence against women and children, and valuing quality of life is of utmost importance, said Terneille Burrows, a member of Hollaback! Bahamas.
Ms Burrows, who is also known by her stage name, "TaDa", told Tribune Woman that she believes the message was effectively communicated during the event.
"Our message is simply about respecting and valuing the quality of life of every human being equally. The sad reality is that the vast majority of victims of reported cases of domestic abuse and violence are women and children. This indicates that there are cases of men being abused as well. We ask that anyone who has experienced abuse come forward," she said.
"While the Bahamas Crisis Centre was not involved with the planning of this event, we fully support their work. We implore not just victims, but would-be perpetrators to seek assistance, as prevention is better than cure. Programmes like Dr David Allen's Renascence Institute International allows access to psychiatrists and therapists that are well equipped to manage various behavioural, psychological and psychiatric needs."
Ms Burrows said it is their hope that more civic groups come on board and actively join in the mission towards the eradication of violence against women, children, the disabled, elderly and mentally challenged in particular.
"We hope that the message will be spread throughout the islands of the Bahamas and be implemented into the Family Life and Guidance programmes of public and private schools. Sensitivity training for our leaders, law enforcement officials, health care workers, teachers, pastors etc. would be invaluable. New related laws need to be passed, and some existing laws need to be examined to ensure that the scope is as comprehensive as possible, and our government leaders need to meet with groups like ours on a quarterly basis to brainstorm effective measures towards the eradication of this type of violence and discrimination," she said.
The Coalition to End Gender-based Violence is comprised of Bahamas Against Sexual Violence & Child Abuse (BASV&CA), Bahamas Urban Youth Development Centre (BUYDC), Hollaback! Bahamas, Families of All Murder Victims (FOAM) and Bahamas Women's Watch.
The coalition also handed a proposal to the Prime Minister's Office as part of their campaign, calling for a series of measures to help tackle the issues highlighted last week.
The proposals put forward to the government include calling for a gun amnesty for a set period, deploying Defence Force marines to assist with the fight against crime and increased publicity campaigns in the media as well as education programmes in the schools.
The coalition is also calling for a separate court for sexual offenses and the following stipulations: a closed court for victims to give evidence; treatment for juvenile sex offenders, and supervision orders for discharged sex offenders.
In addition, they are calling for an exploration of: mandatory arrests for statutory rape where physical evidence exists; mandatory conviction for failure to report any form of abuse against a minor, and an amendment of the current sexual harassment law to address sexual harassment outside of the workplace.
"The events are a means of reaching out to engage the wider public. We get valuable feedback and ideas from attendees, while media coverage helps to make the community aware of our efforts and intentions," Ms Burrows said.
"Our primary efforts moving forward will be geared toward galvanising other like-minded groups and organisations and gleaning from the research, information and processes that might already be in existence that would aid in our efforts. We trust that Prime Minister Perry Christie will respond positively to our submitted proposals so that we can truly have a show of support from the highest authority in our nation in making the eradication of gender-based violence and discrimination a reality and top priority in our country."