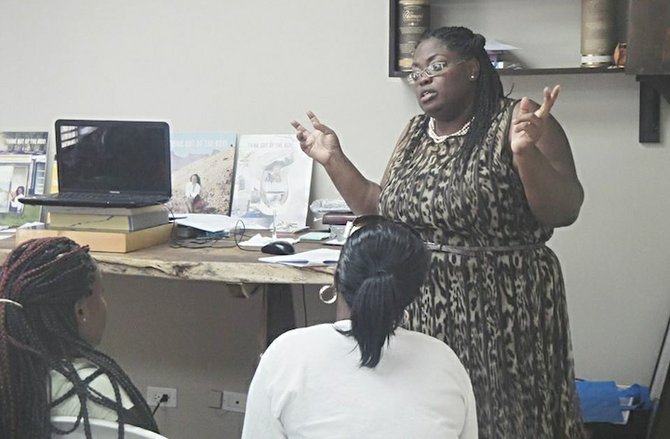 By ALESHA CADET
Tribune Features Reporter
acadet@tribunemedia.net
SHE is a self-made, successful businesswoman, and now Raquel Beneby-Hart is aiming to help others achieve their entrepreneurial dreams with a new book she has published.
With the aim of assisting aspiring entrepreneurs as well as established business owners in making critical decisions, the Grand Bahama business consultant has recently released the second edition of the popular how-to guide, "Business Basics for Beginners".
Drawing from her 19 years of experience as an entrepreneur, Raquel said the information provided in the book seeks to give back to the Bahamian community and help spur sustainable economic activity throughout the islands.
The 100-page solution-driven, business readiness book, as Raquel describes it, is a compilation of business resources, advice, fundamental principles and inspirational quotes for Bahamian entrepreneurs starting up or in an existing business.
Topics include "Business Idea Development", "Strategic Planning", "Marketing", "Financial Planning", "Getting Started" and "Maintaining the Business".
Readers will be exposed to a self-assessment, case studies, financial worksheets, the licencing process, business incentives as well as funding opportunities and requirements, the author and marketing consultant said.
Under the government licenced boutique firm called Out Of the Box Strategy Group, Raquel said she assisted in organising the first ever 'Bahamian Entrepreneur Tour'.
The tour started last month and moved around the islands of the Bahamas providing free business workshops, motivational visits to high schools and the premiere of 'The Journey of a Bahamian Entrepreneur' video which highlights stories of business owners from around the country.
The tour will culminate in Acklins and Crooked Island this November.
"This is the second edition of the book. The first book was written in 2013 as a guide for a group of entrepreneurs I was mentoring at the time," Raquel told Tribune Woman.
"I would like to see this book become the business companion of choice across the Bahamas as it addresses many of the questions that frustrates entrepreneurs. The entrepreneurial industry needs urgent attention. According to the definition for SMEs (small and medium enterprises), 80 per cent of businesses in the Bahamas fall within this category and yet this sector has the highest failure rate."
Raquel said the Bahamas is in need of more lobbying for SMEs to achieve true growth in this sector.
"Hopefully, with the proposed SMEDA (Small and Medium Enterprises Developing Authority) Legislation, the spirit of the Act will be realised and impact this sector positively," she said.
Raquel said this is not just a profession for her, but a calling to transform lives through business. To play a role in seeing other people's dreams and ideas become a reality is extremely satisfying to her, she said.
"Many put their last dollar into their businesses because they believe in their dreams, but to speak hope and carve out new roads at the same time, to achieve the same goal, is priceless," said Raquel.
Due to the positive impact of the first edition of "Business Basics for Beginners", Raquel said she sought to bring it back and make it available for the wider business community; adding more information and details about the Bahamian Entrepreneur Tour.
"I anticipate more editions. As the needs and business landscape changes, I will add more to ensure that the information is current and relevant. Entrepreneurship is a journey. You must equip yourself. You will face obstacles, but nothing is impossible, think out of the box and only you can stop you," she said.
If she has to, Raquel said she will share more about her personal journey with the public, as it is a story that would motivate anyone. She describes it as going through a metamorphosis.
"It's a story of young single mother on an island with just hopes and dreams bottled up inside, not sure what to do, but someone saw my gift. I had a business plan ready, and on the spot they invested in me. I have failed and have brushed myself off and continued on, and now I am beginning to soar like an eagle," she said.
Raquel said the response at the recent launch for the book's second edition was encouraging. She sent a special thank you to Cheriese Rolle of Blue Diamond Concierge, who managed the process here in Nassau. She also thanked the Bahamas Technical and Vocational Institute, which brought a contingent of 22 students led by lecturer Raquel Bethel and Deborah Rolle of R M Bailey to the launch.
"I have had the opportunity since my return to Grand Bahama to provide business assessments for several existing companies in Nassau and to mentor the young entrepreneurs who are trying to find their way," said Raquel.
The book is available at Imperial Business Centre on Elizabeth Avenue and Shirley Street in Nassau and at the H&L Bookstore in Freeport.