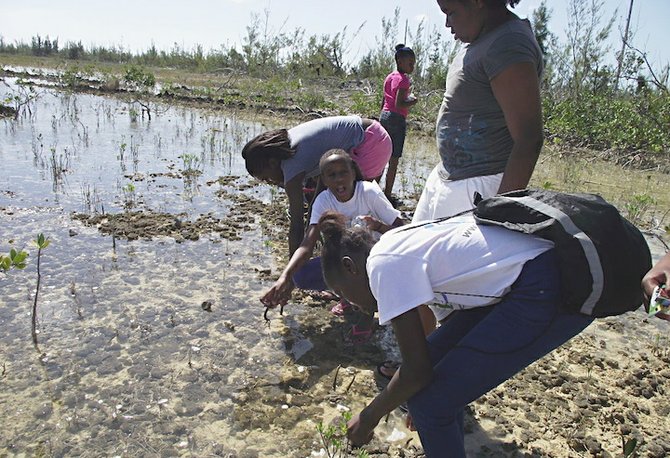 STUDENTS attended a mangrove planting exercise and lionfish demonstration at the weekend.
The event was held by EARTHCARE, in conjunction with the Sustainable Tourism Committee and the Coastal Awareness Committee on Grand Bahama.
On Saturday, students from Sister Mary Patricia Junior High School, Eight Mile Rock High School, Bishop Michael Eldon School, Alpha Omega Christian School and Grace Christian Academy attended the event, which formed part of celebrations of coastal awareness month.
Gail Woon, EARTHCARE representative, said: "Climate change, an ever-changing reality, is the theme of this year's coastal awareness month.
"The mangrove planting exercise reiterates to our students the importance of mangroves as carbon sinks.

"Salt marshes, mangroves and seagrass beds absorb large quantities of the greenhouse gas carbon dioxide from the atmosphere and store it, in turn decreasing the effects of global warming. We planted mangroves at Dover Sound in the wetland, in an area that had new mangroves already growing. Our students were very enthusiastic, in spite of the spongy ground they had to walk on.
"From Dover Sound, our excited troop went to the Park at Queens Cove where they met veteran Fisherman, David Rose who gave them a very informative demonstration. David showed them a live lionfish in all of its glory. He proceeded to explain to them that, although, technically the lionfish is an invasive species, that it is here to stay.

"He explained the toxicity of the venom in the spines and demonstrated how to safely prepare a lionfish for the dinner plate. Our students listened with rapt attention. Shortly thereafter, the group enjoyed a healthy meal of fresh lionfish with Uncle David's delicious cole slaw and peas and rice."
Mr Rose said: "Fishing in the Bahamas has evolved over the past six decades, going from simple smack boats and dinghies with live wells and catch systems that brought to market live products for local consumption. Nowadays fishing is done mostly by divers or line fishermen who bring to market an already dead product.
"This new type of fishing relies on refridgeration and the use of ice and cooling systems. It is most important to fishermen who wish to bring a wholesome product to market, to carry such items as ice and coolers for this purpose. Products from the sea should be iced immediately as they are brought on to the vessel."
Javan Hunt, YEA Facilitator, added: "I'm learning right alongside these young environmentalists. My awareness and respect for my environment has also grown tremendously thanks to Save The Bays/EARTHCARE."
Fellow YEA facilitator Elise White added: "The trip today turned out to be more than what I had expected. It was refreshing and amazing to see how the children truly absorbed everything that they were exposed to.
"My favorite part of the trip was time spent planting the mangroves; I felt privileged to witness the joy and pure excitement on the children's faces. It was also my first time spent planting mangroves and I enjoyed every moment of it."
The Youth Environmental Ambassadors who took part include: Nathalia Higgs, Tristan Rampersad, Gianna Major, Asjahnae Armbrister, Jonathan Rolle, Lamar Gardiner, Tashjanae Poitier of Sister Mary Patricia Russell Junior High School, K'Anna Clarke, Summer Gibson and Ketora Clarke of Eight Mile Rock High School, Havana Gibson, Savanna Gibson and Angelina Rahming of Bishop Michael Eldon School, Ryan Mills of Alpha Omega Christian School and Jamia Williams of Grace Christian Academy.