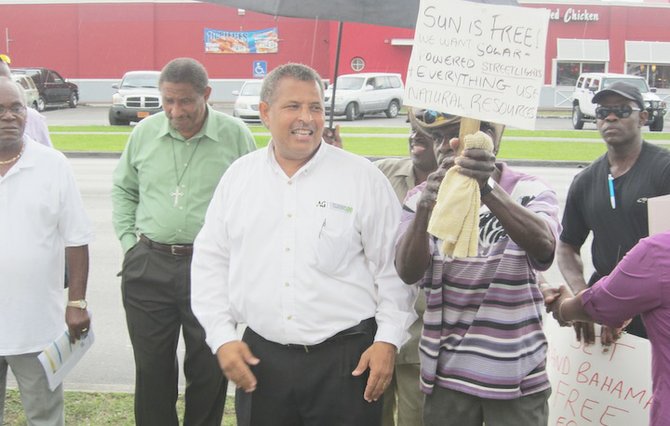 By DENISE MAYCOCK
Tribune Freeport Reporter
dmaycock@tribunemedia.net
FREEPORT – The Coalition of Concerned Citizens is expected to initiate another "lower the cost of power" boycott and protest next week against the Grand Bahama Power Company/EMERA.
The CCC attended two meetings last month with Power Company officials and discussed their concerns regarding the high cost of electricity on the island, but has yet to see any progress in the reduction of power rates.
Coalition of Concerned Citizens Convener Pastor Eddie Victor said as the Easter holiday approaches hundreds of Grand Bahamians across the island
continue to live without electricity in their homes.
He is calling on consumers in Grand Bahama to again support and participate in a 12-hour "voluntary blackout" and demonstration at 1pm on Tuesday, April 22.
Residential and commercial customers are being asked to turn off their electricity from 8am to 9pm.
Once individuals would have turned off their power, Pastor Victor said they should take note of their meter and record the reading.
"(We want) residents and businesses who own generators or an alternative source of power, to run on your units that day. Also, we are calling on customers not to pay their power bills on Tuesday, April 22, if it is possible," said Pastor Victor.
"We call on all of Grand Bahama to assemble on the surrounding property of the Grand Bahama PowerEmera at 1 pm."
The Coalition of Concerned Citizens (CCC) held its first boycott and protest on February 25.
Following the first boycott, Minister for Grand Bahama Dr Michael Darville organized a meeting for all the relevant parties, including members of the CCC, GBPC, the Government, and the Grand Bahama Port Authority.
Pastor Victor said two meetings took place on March 10 and 17 and many issues relating to the cost of power were discussed.


"These meetings have yet to produce fruit from the Power Company, which is unwilling to reduce the rates at this time," he said.
The organization continues to hold its "lower the cost of power" rallies in Freeport to gather some 10,000 signatures for a petition, and to keep residents informed of any new updates and concerns regarding power rates on Grand Bahama.
Last week, the CCC expressed concern over reports about the large raises and bonuses given to top executives at EMERA in Canada.
EMERA is a major shareholder in the Grand Bahama Power Company with controlling interest of some 80.4 per cent.
CBC News reported that executives of EMERA's parent company, Nova Scotia Power, received double-digit percentage raises in 2013.
EMERA CEO Chris Huskilson has reportedly made $4.7 million last year. Other company executives have also reportedly received between $646,000 and $1.7 million.
"Take your lunchtime at 1pm and join us in this demonstration as we say to the Grand Bahama Power Company, 'enough is enough'
"It is time to set Grand Bahama free from high electricity rates," Pastor Victor said.
The CCC has set up a Coalition Hotline at 225-9894, 646-9494, 359-0003 for those customers who have been disconnected for six weeks or longer.
Individuals can also respond by email:cccbahamas@yahoo.com, Facebook: Lower the Cost of Power, Grand Bahama.