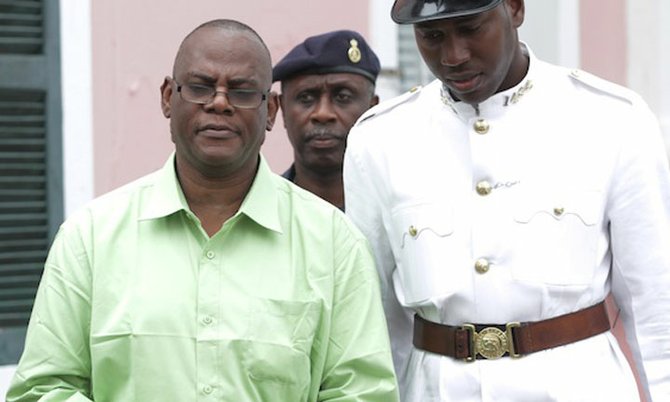 By LAMECH JOHNSON
Tribune Staff Reporter
ljohnson@tribunemedia.net
PRINCE Hepburn, who is contesting his murder conviction on the basis that he was suffering from "diminished responsibility" at the time of Nellie Mae Brown-Cox's killing, will have to wait nine weeks before his appeal is heard.
Hepburn appeared before Court of Appeal Justices Anita Allen, Stanley John and Abdulai Conteh when his lawyer Nathan Smith,
informed the court that he was not in possession of the transcripts from the case despite attempts and requests to receive them.
Appellate Court president Justice Allen noted that the court had been in receipt of the transcripts from February 12 and inquired when he had last requested the transcripts.
Mr Smith said he had done so three weeks before yesterday's proceedings.
Justice Allen, in the circumstances, said she would adjourn the matter to June 18, as "that will give everyone good timing to prepare their submissions and case authorities."
In March 2013, Hepburn was convicted of the murder of Brown-Cox, the 42-year-old former president of the Bahamas Heart Association, the woman he intended to marry upon the conclusion of their respective divorces.
Three months later, Justice Indra Charles, before passing sentence, said she was not of the view that Hepburn had expressed remorse for what occurred on April 6-7, 2011.
Brown-Cox was found dead in the kitchen of an apartment on Bougainvillea Blvd, South Beach, with multiple stab wounds.
Hepburn, her partner at the time, was charged in connection with her death six days later when he was arraigned in the Magistrate's Court.
Hepburn denied the murder charge and through his lawyer Murrio Ducille, maintained that he could not accept responsibility for murder because he was not in the right frame of mind as testified by Dr Michael Neville, a psychiatrist of more than 30 years experience.
It was explained that at the time he was suffering from "diminished responsibility."
Justice Charles sentenced Hepburn to 57 years at Her Majesty's Prison.