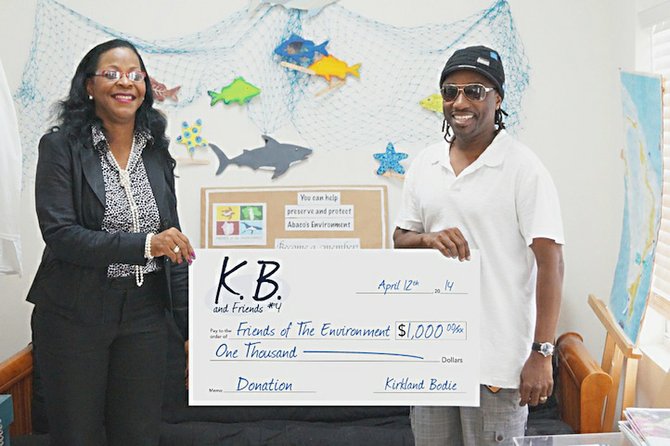 LOCAL musician Kirkland Bodie (KB), will donate the proceeds of his fourth "KB and Friends Album" to Friends of the Environment that provide environmental education through field trips, summer camps and after school programmes.
The organization also works to preserve the environment of Abaco by operating a number of grassroots conservation programmes.
KB first became familiar with FRIENDS when he performed at their annual Reef Ball fundraising event in 2013. He says, "I was impressed with how hard they were working and the difference they were making in Abaco. They are changing attitudes and getting the kids out into the environment. I wanted to support that work. I love the Bahamas, and we need our environment to be healthy to keep our country and our economy healthy. "
From his first hit with the band, Ego Tripp titled: "Turn Her Loose and Let Her Go", the international sensation "She Fat" and his string of hits and successful albums that followed, KB has been a leader in the music industry for some time. His efforts to include other Bahamian musicians in the opportunities that came his way continued as the artist grew as a writer/producer. In addition to his own extensive discography, which includes hit albums "Conch Juice", "Island Boy", "Bush Mechanic" and "Bahamian Culture"; KB has also produced a number of "KB and Friends" compilation albums.
Now KB is becoming a leader in bringing together the Bahamian entertainment industry and groups that support the Bahamas environment. As a Board Member for Save The Bays, KB took time out from his concerts in Abaco to stop by FRIENDS and deliver his donation to the new President of the Board of Directors of FRIENDS, Wynsome Ferguson. Ferguson, who is the Director of the Abaco Tourism Office, says, "We greatly appreciate KB's contribution and we are glad that he is setting a standard for entertainers to support the environment that inspires them and brings so much to our country."