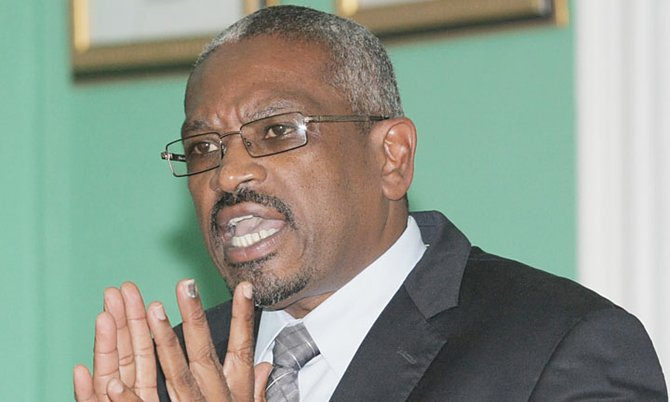 By SANCHESKA BROWN
Tribune Staff Reporter
sbrown@tribunemedia.net
OPPOSITION Leader Dr Hubert Minnis questioned yesterday whether a "gag order" was put on Prime Minister Perry Christie by the "higher ups" in the Progressive Liberal party for allegedly embarrassing the organization.
Speaking with The Tribune, Dr Minnis said the Prime Minister's recent statements in the press prove that he, as well as the PLP, are "completely ineffective and lost".
The latest blunder, according to Dr Minnis, is the difference of opinion on the dates of the constitutional referendum between Dr Bernard Nottage and the Prime Minister.
"This government is more lost than the Malaysian Airline the world is looking for," Dr Minnis said. "The Prime Minister said the referendum will be held on or before the end of June and now Dr Nottage is in the papers being quoted as saying something else. Nottage was silent while the Prime Minister was making all the statements on the referendums, now it seems as though the PLP has put a gag order on the Prime Minister because he has made so many missteps – the mortgage relief, real property tax, the Ishmael Lightbourne situation, the promises of jobs and crime. It appears that the Minister responsible for the referendums is now taking control and a gag order has been put on the Prime Minister."
Dr Minnis said it seems as if there are many "mini-Prime Ministers" running the country instead of one man doing the job correctly.
"Who is in control of this country?" he asked. "A minister says one thing and the Prime Minister says the next. Do they even have Cabinet meetings? Who is in control here? It seems they are a party of 20 Prime Ministers with everyone speaking independently. The lost Malaysian airline is a joke compared to how lost this government is. It's like they are guessing how to run this country."