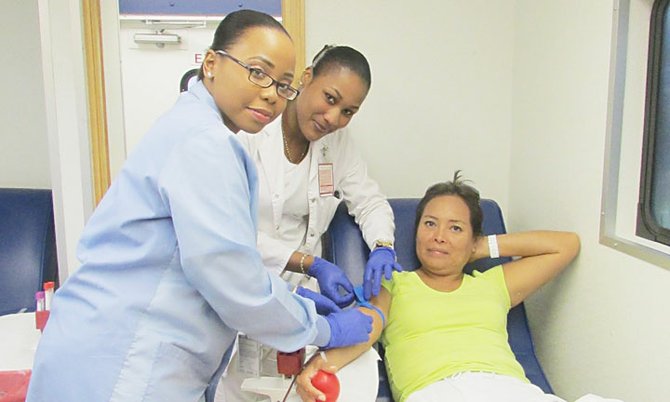 A desperate attempt to save a life and a call to lend a helping hand to someone in need is what the Lyford Cay International School set out to do when they participated in Doctors Hospital's Corporate Blood Drive programme for the second time this year. The aim of this blood drive, combined with a bake sale, was to raise money for a co-worker in need after a fire burnt his house down and to collect blood for a student's parent who urgently needed blood to assist with his medical care.
It is in moments like these where having the ability to save a life and using it, is crucial.
Blood donation is necessary for a number of key reasons. Blood is needed to treat wounds and for certain illnesses such as cancer, where patients lack sufficient red blood cells.
It is also used when patients have to undergo surgeries like organ transplants, bypasses and hip replacements. A coronary bypass patient requires one to six units. Someone with a bleeding ulcer needs up to 30 units. It could take as many as 50 units to save a car accident victim and cancer patients can require up to 32 units each week.
At the most recent Lyford Cay Blood Drive, eight pints of blood were collected. Once each donated pint is divided into the three components, 24 lives can be saved.
Nicola Roberts, parent of one of the LCIS students and coordinator of the school's blood drives, explained how they got involved in the programme: "I have always been a blood donor, whether I lived here, overseas or wherever. From experiences I have had with friends being in accidents and desperately needing blood, that's when my husband and I used to go to Doctors Hospital to give blood. When I saw the Blood Drive Mobile at Old Fort Bay during a blood drive, I thought it was amazing. After this I approached the school and we decided to combine the blood drives with a bake sale every time, since you have to eat before you donate anyway."
Mrs Roberts and her team advertised the upcoming blood drive and bake sale to people who live and work in the surrounding community to increase participation and support.
Doctors Hospital launched the Corporate Blood Drive Programme to encourage corporate Bahamas to get involved in sensitising all Bahamians to the desperate need for blood, and to make it easier for the corporate partners' staff members and customers to become regular blood donors.
Schools, businesses, residential neighbourhoods and church communities can sign up to have the Doctors Hospital Blood mobile come on-site to hold a blood drive at set times during the year.
Zonja Bain, supervisor of the blood bank at Doctors Hospital, is excited about the programme, but more so about the amazing opportunity to save more lives.
"Our Corporate Blood Drive programme is the perfect opportunity to educate the Bahamian public. We find that a lot of people assume that blood will automatically be available when accidents happen or when major surgeries need to be performed. The fact is, however, last year in the Bahamas, less than one per cent of community donated blood at our blood bank, which means we still have to send out urgent appeals for blood when things are critical."
She explained that the goal of the programme is ultimately to "build up a registry, so we know who to call when we need a specific type of blood. This will also be utilised if we ever find ourselves facing a national disaster, helping us to be prepared. We are striving to have more 'lifetime donors' than one-time donors."
Organisations such as Bahamas Harvest Church, South West plaza, Queen Esther Lodge, the US Embassy, College of the Bahamas, BTC and of course the Rotary Club, who donated the Blood Mobile, are some of the other groups already participating in the Doctors Hospital Corporate Blood Drive programme.
To schedule a Corporate Blood Drive, contact Zonja m at the Doctors Hospital Blood Bank at 302-5202.