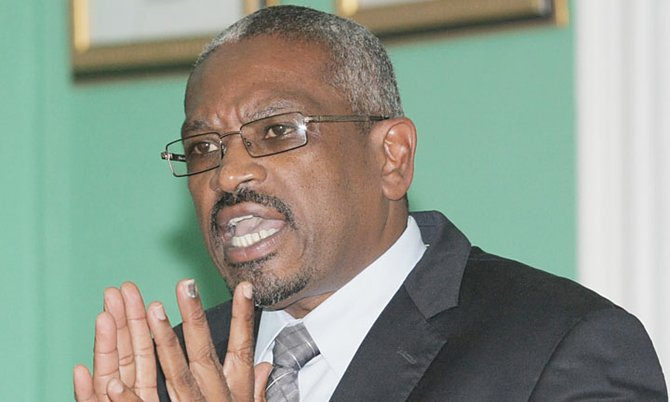 By RASHAD ROLLE
Tribune Staff Reporter
rrolle@tribunemedia.net
OPPOSITION leader Dr Hubert Minnis yesterday promised to repeal any tax introduced by the Christie administration that causes "pain, suffering and undue stress" to the Bahamian people if the FNM is elected in the next general election. He added that the signs of a suffering nation would show in the complaints and lifestyle changes of residents.
"If people complain you will see it," Dr Minnis said. "You will see more people applying for social assistance, taking children out of private schools, more foreclosures and people who can't keep up with their mortgage rates.
"Everybody agrees that we need tax reform. But if you try and introduce a tax that causes pain and suffering and undue stress on the middle class and the poor, resulting in further shrinkage of the middle class and further growth of poverty, we will repeal it.
"You should try to introduce systems where you grow the middle class and shrink poverty, not the opposite."
Dr Minnis emphasised that his stance applies not only to Value Added Tax (VAT), which the government intends to implement by July 1st, but to any tax the Christie administration introduces. He also criticized the government's efforts to introduce VAT and bring about tax reform.
"The education process has not been done," Dr Minnis said. "Businesses are not prepared. The government should be concentrating on collecting its revenue and curtailing excess spending and improving collections. But by going about it the way they are, all you are doing is collecting tax that goes back into the black hole."
In response to his statements, PLP chairman Bradley Roberts said last night: "The PLP has no intention on opposing any taxes that will bring pain and suffering to the Bahamian people." He also called Dr Minnis a "master hypocrite."
"Dr Minnis sat around the table with the former administration and they agreed to implement VAT," he said. "Where his head was when they agreed to it? The FNM during his administration imposed a level of tax that was overwhelming and he sat around the table and agreed to it. He was not able to find his mouth then. Hypocrisy seems to characterise him. He is a master hypocrite."