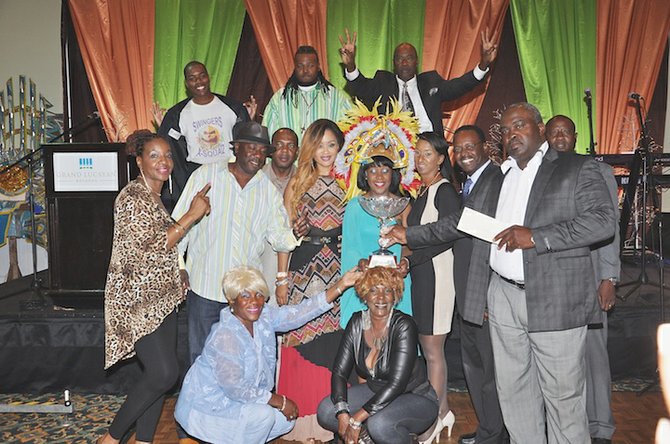 JUNKANOO could bring a financial boost to Grand Bahama, said Prime Minister Perry Christie.
The PM was speaking as he attended the 1st RUSH Awards and presentations by the Grand Bahama Junkanoo Committee, where he said that culture on Grand Bahama would soon get a major shot in the arm with an upcoming conclave with junkanoo leaders, tourism officials and the Grand Bahama Port Authority to advance the presentation of junkanoo as a workable industry and money earner for practitioners.
He said: "We have to find an effective way in lifting up the culture of the country and integrating it more into the economy of the country.
"We have to find the formula to have people who've given much to this culture make some money from it.
"All of these persons who would be honored tonight, even posthumously, would have given and given of their service and get nothing back in return. That's the kind of work they do in Junkanoo in today's Bahamas. But we have to work at recognising them.
"I want to come back in the immediate future to meet with the leaders of Junkanoo groups, to meet with the Grand Bahama Port Authority because I have a plan that I want to present to you.

"I will come with the minister of tourism and the minister of culture with a transformative plan, one that I think will take you to a new level in terms of being able to make money out if this thing you practice. This is going to be important to you and I want you to hear me when I say, I will be coming back shortly for a business meeting where I will speak with you and the Grand Bahama Port Authority for what I would wish for Grand Bahama to do and what I would wish you to do in the context of what I'm going to be able to impose for you," said the Prime Minister.
Mr Christie shared memories of the founding of the Valley Boys. He said: "In 1957, a number of us in the valley as young teenagers rushed for a gentleman who come from Grand Bahama, Spurgeon Smith, (he died an Immigration Officer down here), who carried out what we called an organised junkanoo group. The costume he took was the Scottish Highlanders. When we left Bay Street after that junkanoo parade, Gus (Cooper) came to us and said 'let's start our own parade here in the valley'.
"We stood by the wall outside my home and we thought about how we're going to do this, because all of us were about 15, 16 years old. We found some people in the neighborhood who understood what we were trying to do who provided us with help. Gus Cooper's mother had a little garage and we started costuming in the garage. I tell you this story because it has to do with the indomitable spirit, the belief that you can make it happen even when you have no resources. I'm talking about building tower, transfusing culture with all of the psychological forces that will tell us whether you are going to make it in life.
"Anyone who leads a group has to somehow have discipline in the group. Anyone who is in the leadership of groups must know the people you're honoring today, as the Minister of Tourism came to me and the Minister responsible for Culture, to say that we want to make this a year of culture."
Minister of Youth, Sports, and Culture Dr Daniel Johnson issued a challenge to the Grand Bahama Junkanoo Committee.
He said: "Last year we saw a real national parade when we did junior Junkanoo and we brought in 400 kids from the family islands to Nassau. It was so interesting because you know, Nassau think they're dominating this thing called junkanoo.
"For the junior Junkanoo, we had Harbour Island, Spanish Wells, Eleuthera, Exuma, Andros, Abaco, yes and everyone was fighting for second place. I would like to see one day this same committee here say that they want to see a real National Junkanoo parade and where ever you want to have it, we'll do it. But I want to see the Abaco all-stars, Exuma all-stars, Cat Island all-stars, Andros all-stars, Nassau all-stars, and Grand Bahama all-stars and then we'll know who're the champions of Junior Junkanoo; we're prepared to do it," said the Minister.
Also in attendance were Minister of Tourism Obie Wilchcombe, Minister for Grand Bahama Dr Michael Darville, and officers from the Ministry of Youth, Sports, & Culture.
The 1st RUSH Awards also featured the GBJC Trailblazers Medal of Honour, a recognition that paid tribute to the early advocates of the parade. This year, the award, named in honour of Austin and Anne Grant, of West End, was presented to former committee chairman the Late Oscar Porter – The Visionary Award; The Tourism/Junkanoo Ambassador's Award - Anthony "Huck" Williams; and the Life-time Achievement Award - Robert 'Bob' Davis.
The RUSH Awards also include the 2014 Chairman's RUSH Award – Ken 'Motor Boat' Ferguson; the 2014 Grand Marshall's RUSH Award – Lester Rolle; the 2014 Tourism RUSH Award – Terrance Roberts; and the 2014 Lucille 'Mama-Lou' Adderley Choreography RUSH Award – Mrs Irene Munnings.
Corporate sponsors recognised with RUSH Awards were: Long-time Service Honorees - Sanitation Services Ltd. and the Grand Bahama Power Company; the Minister for Culture Honorees - Wellington Moultrie and Monique Leary; the Corporate Partnership Honorees - Bahamas Oil Refining Co. Ltd. (BORCO); Freeport Oil Company Ltd., and the Grand Bahama Port Authority; and the Title Sponsorship Award – Bahamas Telecommunications Company.
The committee also recognised the winners in the 2014 parade by categories, with adjustment in the scoring in only one category. They are:
Best Free Dancer: Top Performers (C1), 221; New Life Classic Dancers (K1), 216, and Swingers (D1), 212
Best Individual Lead: Superstar Rockers, 542; Platinum Knights 506, and the Swingers 480
Best off the Shoulder: Superstar Rockers (12012), 310; Superstar Rockers (12009), 309, and Superstar Rockers (12003), 304.
Best Banner: Swingers, 584; Platinum Knights, 569; New Life Classic Dancers, 543; Superstar Rockers, 523; Kingdom Culture, 424; op Performers, 320; Bayshore Warriors, 258; and the Harbour Boys, 198.
Best Performance
Showtime: Superstar Rockers, 514; New Life Classic Dancers, 486; Swingers, 467; Platinum Knights, 461; Top Performers, 431; Kingdom Culture, 404; Bayshore Warriors, 361; and the Harbour Boys, 189.
Best Choreograph Dancers: Swingers, 246; New Life Classic Dancers, 236; Kingdom Culture, 233; Platinum Knights, 215; Superstar Rockers, 215; Top Performers, 214; and the Harbour Boys, 99.
Execution of Theme: Superstar Rockers, 104; Swingers, 97; Platinum Knights, 97; Mew Life Classic Dancers, 90; Kingdom Culture, 88; Top Performers, 86; Bayshore Warriors, 83; and the Harbour Boys, 38.
Best Performance as a Group: Platinum Knights, 285; Swingers, 260; Superstar Rockers, 245; New Life Classic Dancers, 243; Kingdom Culture, 203; Top Performers, 199; Bayshore Warriors, 187; and the Harbour Boys, 85.
Best Music: New Life Classic Dancers, 946; Swingers, 871; Bayshore Warriors, 810; Platinum Knights, 802; Superstar Rockers, 778; Top Performers, 655; Kingdom Culture, 612; and the Harbour Boys, 371.
Best Costume as a Group: Superstar Rockers, 1,082; Swingers, 1,048; Platinum Knights, 961; New Life Classic Dancers, 945; Top Performers, 881; Bayshore Warriors, 830; Kingdom Culture, 780; and the Harbour Boys, 297.
Overall Group Winners: Swingers, 2,216; Superstar Rockers, 2,209; New Life Classic Dancers, 1,799; Platinum Knights, 1,730; Kingdom Culture, 1,608; Bayshore Warriors, 1,315; Top Performers, 896; followed by the Harbour Boys, 341.