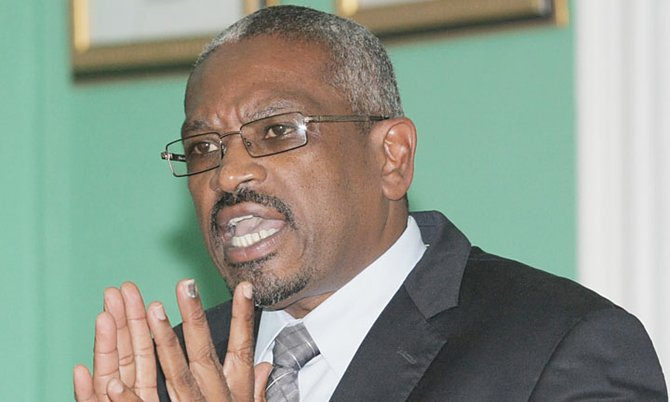 By KHRISNA VIRGIL
Tribune Staff Reporter
kvirgil@tribunemedia.net
FREE National Movement leader Dr Hubert Minnis says he will not apologise for recent comments in which he likened the Christie administration to the missing Malaysian Airlines flight.
His words sparked a flood of criticisms including a tongue lashing from Prime Minister Perry Christie on Monday, who branded the remarks as "silly" while insisting that Dr Minnis should be condemned for making the statement.
Mr Christie said: "You could joke about politics, you could even seriously argue about your side of politics, but when you use as an analogy or illustration in public about the loss of human life that has gripped the attention of the world, you are not speaking properly, you are not speaking wisely, you are not speaking humanely."
Last week, Dr Minnis remarked to The Tribune that: "This government is more lost than the Malaysian Airline the world is looking for."
However,  yesterday Dr Minnis said that Mr Christie and his administration were simply attempting to deflect the country's attention from their "mountain of failures and broken promises."
He reiterated that he was saddened by the Malaysia Airlines flight MH370 tragedy but was even more saddened that since May 2012 the people of the Bahamas have been lost as a result of Mr Christie's leadership.
"The outrage he expressed, he should in turn take that and apologise to the Bahamian people who cannot pay their mortgages after he promised mortgage relief," Dr Minnis said. "He should apologise to the people who remain jobless, when he campaigned that he  would provide 10,000 jobs in the first year of his term in office.
"But yet the poor is increasing in this country and the middle class is decreasing. The Bahamian people have been misled and the Bahamian people are sick and tired of it. He is over his head with helping the Bahamas and the citizens of this country. This Christie government must be moved because they are taking us out into space and we are lost.
"They are trying to use my comments as a deflection from their lack of knowing how to stimulate this country's economy, the issues of crime, jobs and foreclosure."